Learning design and technology
by
Neo Hao Qiang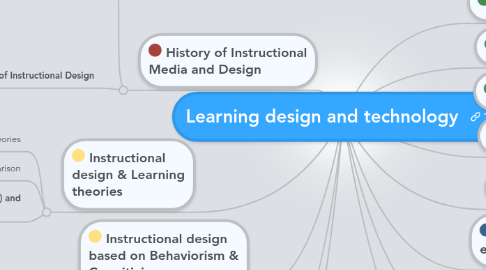 5.0
stars -
1
reviews range from
0
to
5
Instructional design & Learning theories
Basics of Learning theories
Learning theories comparison
Instructional Design (ID) and learning theories
Online learning
Advantages of tech-based education
Instructional forms of online learning materials
Components of online learning settings
Learning outcomes
Understanding of lerning
Critical components of learning settings based on constructivism
Instructional design approaches
Definitions
RLO-RIO structure
A RLO is created by combining 7 relevant RIOs together.
Guidance for building RLOs
Guidance for building RIOs
Complex learning
Complex learning
Complex learning is featured by the requirement for master of integrated set of learning goals.
A proposed learning model (4C/ID)
Web 2.0's Educational application
Read-Write Web
Subscribing to information
Social spaces
The Internet as a platform
Open source
Instructional design based on Behaviorism & Cognitivism
Components of instruction planning
Nature of instruction——Communication
Structure of cognitive learning theory
Learning process based on cognitive learning theory
Instruction events based on learning process
Multimedia learning
Learning style comparasion
Multimedia instructional message
Multimedia learning principles
The following principles in sub-branches are only applicable to multimedia messages that provide explanations of how sth works.
History of Instructional Media and Design
History of Instructional Media
History of Instructional Design
Concept learning
Traditional perspective
Revolutionary perspective
Handheld devices' educational application
A proposed classification of educational applications on handheld devices by functionality
Collaborative learning supported by technology
Educational trend
Collaborative learning supported by technology
Instructional design based on Constructivism
Constructivism
Instructional principles derived from Constructivism
Problem based learning
Learning process of a proposed model
Critical features