THE GOSPELS
by Aart PHASINN KIATTHAWEE-ANAND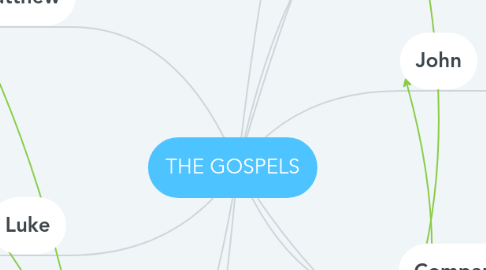 1. THE NUMBER 7
1.1. The number 7 appears in the Gospel. Such as 7 miracles, 7 times Jesus mentioned his hour, 7 witnesses to Jesus and 7 I Am statement.
2. By the end of the 1st century, a large number of Gospels had appeared on the scene. This was the scenario which lead the church to finally make a choice for 4 Gospels
3. Mark
3.1. INTENDED AUDIENCE
3.1.1. The Gospel of Mark has a Roman audience as a primary target. Mark was speaking to Romans and trying to explain Jesus to them.
3.2. Miracles
3.2.1. Most of Mark Gospel is about the miracles of Jesus. There are 18 miracles recorded which Mark has only 16 chapters.
3.3. PRIMARY CONCEPT
3.3.1. Mark's primary concept of idea is that of Servant. To Mark, Jesus is the Servant of God who was prophesied by Isaiah in OT.
4. John
4.1. INTENDED AUDIENCE
4.1.1. John wrote the Gospel to Christian or we can say to everyone. The people he was writing to suffered from the next generations syndrome because the first generation disappeared and new interests take root.
4.2. PRIMARY CONCEPT
4.2.1. The overriding concern of John was to show that Jesus was God.
5. Matthew
5.1. INTENDED AUDIENCE
5.1.1. The Gospels of Matthew is Jewish. Gospel of Matthew fulfilled the OT prophecies,
5.2. PARABLES
5.2.1. Gospel of Matthew contains most parables which tell the theme of Kingdom of God, difficult problem of sin, and in Matthew 20-22 which revert back to the theme of kingdom.
5.3. PRIMARY CONCEPT
5.3.1. Matthew's primary concept is all about the King; God is king and Jesus is king.
6. Luke
6.1. INTENDED AUDIENCE
6.1.1. Luke's Gospel carries a definite Gentile ambience and did not have Jewish feel that Matthew had. Target audience was clearly Greek. Luke wrote the Gospel to Theophilus because we think that Theophilus is influence to the Greek and he can persuade the Greeks about Jesus.
6.2. PARABLES
6.2.1. Luke record several parables like Matthew. These parables are found mostly near the center of the book. The most famous parable of Luke, the Good Samaritan are found in Luke 10.
6.3. PRIMARY CONCEPT
6.3.1. Luke appears to be primarily interested in Jesus' humanity. He wanted the Greeks, who had numerous stories of gods coming to the human world, to know that God is indeed become human in Jesus.
7. Why Four Gospels?
7.1. GOSPELS SCENARIO
7.2. SPURIOUS GOSPELS
7.2.1. Not all Gos are Gospels, some Gospels had their own private agenda and use story of Jesus to support their idea ; Gospel of Judas that wanted to prove that Judas was not really a bad person
7.3. FOUR VIEWS
7.3.1. The Gospels are like a portrait photography ( or selfie today), different views but the same person (Jesus)
8. Synoptic Gospels
8.1. PARALLELS BETWEEN SYNOPTIC
8.1.1. Synoptics Gospels has a similarities which - Similar stories -Similar words and phrases -Similar information -Similar verses
8.2. DIFFERENCES BETWEEN SYNOPTIC
8.2.1. Even though the Synoptics are so similar, there are some significant differences between then like Birth stories, Parables, and passion naritives.
9. The Gospels Writers
10. Compare the four Gospels
10.1. IDENTIFY SIMILARITIES
10.1.1. All four Gospels contain Passion Narrative, Crucifixion and Ressurection. The details of Miracles are the same. They have 4 different views but in the same truth.
10.2. IDENTIFY VARIATIONS
10.2.1. Only Mark and John have the birth story of Jesus. Mark use a highest ratio of miracle but John only have 7 of them.
10.3. FOUR FACES OF JESUS
10.3.1. Each Gospel give one view of Jesus, Matthew portrayed Jesus as Kingly Messiah. Mark view Jesus as servant Luke portrayed Jesus as a man for everyones need and John portaryed Jesusd as God.