Central Desktop Competency Map
by
Edward Lavieri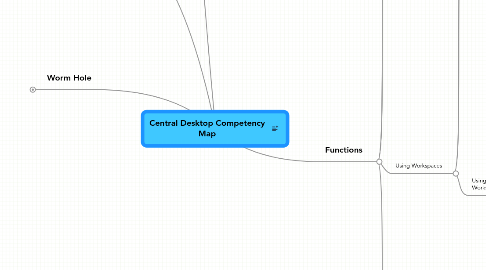 0.0
stars -
0
reviews range from
0
to
5
Central Desktop Competency Map
Over the past 10 years, human resource and organizational development professionals have generated a lot of interest in the notion of competencies as a key element and measure of human performance. Competencies are becoming a frequently-used and written-about vehicle for organizational applications such as: • Defining the factors for success in jobs (i.e., work) and work roles within the organization • Assessing the current performance and future development needs of persons holding jobs and roles • Mapping succession possibilities for employees within the organization • Assigning compensation grades and levels to particular jobs and roles • Selecting applicants for open positions, using competency-based interviewing techniques
Definitions
COMPETENCY: Competencies include the collection of success factors necessary for achieving important results in a specific job or work role in a particular organization. Success factors are combinations of knowledge, skills, and attributes (more historically called "KSA's") that are described in terms of specific behaviors, and are demonstrated by superior performers in those jobs or work roles. Attributes include: personal characteristics, traits, motives, values or ways of thinking that impact an individual's behavior
KSA+A We actually use Knowledge, Skill, and Attitude (vs. Attribute) as our standard format. One reason for this is that attitudes are addressable by training and other interventions... I'm not sure that attributes (like traits) are.
Original Belt Level Concept
Functions
Searching CD
Accessing the Help Center
Using Dashboard
Using Workspaces
Access Account Settings via the "My Account" menu item
CD Structure
Search
Main Navigation Bar (Blue Banner)
Worm Hole
Blue Banner (with "The Lounge") -- How do we get something on the banner?
Links on CD Page footers
"Web Meetings" Under Dashboard
Review Document "Back Links" Tab in Version History