UKPSF Descriptor 1
by Jesvir Mahil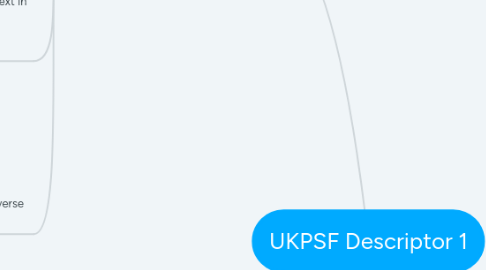 1. Areas of Activity
1.1. A1: Design & Plan learning activities
1.1.1. Case Study 1 Full-time teacher in Further Education since 1986 Responsible for designing schemes of work, lesson plans and assignments Used design & planning skills to improve quality of teaching & learning in colleges in my work as an Ofsted inspector
1.2. A2: Teach and/or support learning
1.2.1. Case Study 1:At Aston University, I have been coaching Level 7 Senior Leader apprentices to compile portfolios of evidence demonstrating their management & leadership competencies. I use knowledge & skills acquired from my own MBA and experience as a management coach, to ensure that the evidence submitted by apprentices meets Level 7 standards.
1.3. A5: Engage in continuing professional development in subjects/discipline and their pedagogy
1.3.1. Case Study 1: I successfully completed a PhD in Education in 2018 and this enabled me to make an innovative contribution to education. I researched the concept of creativity in education and my work gained me Fellowship of the RSA (Royal Society for Arts) Fellowship of Chartered Manager's Institute and also Fellowship of Society for Education and Training.
2. Core Knowledge
2.1. K2: Appropriate methods for teaching, learning and assessing in the subject area and at the level of the academic programme
2.1.1. Case Study 1: I am teaching and coaching on work-based vocational MBA programmes. The apprentices I am working with are employed full-time and have very busy lives balancing careers and family lives. They only attend Aston University for 2 Study Days per term. Therefore, I teach online at times that apprentices have chosen to be most popular. To be more inclusive, I record my sessions to make them available to apprentices unable to attend the webinars.
2.2. Ki: The subject material
2.2.1. Case Study 1 I have an MBA qualification and also a PhD in Education which focused on creativity & innovation using a Systems Thinking conceptual framework. In my work with Level 7 apprentices, I teach the subjects that I have most expertise in: creativity, innovation and Systems thinking. I have published videos and articles based on my expertise in creativity and Systems Thinking concepts.
3. Professional Values
3.1. V2: Promote participation in higher education and equality of opportunity for learners
3.1.1. Case Study 2: I have always been committed to equality of opportunity for learners and served as an Equality & Diversity Champion in a large Further Education College for 13 years. At Aston University, I am on a committee supporting the University's application for Race Charter. I am dedicating my time voluntarily because of my commitment to Equality & Diversity.
3.2. V3: Use evidence-informed approaches and the outcomes from research, scholarship and continuing professional development
3.2.1. Case Study 2: I am an Early Career Researcher and am applying for ESRC and ESPRC grants for New Investigator Awards. My research proposals are based on pedagogical research that will enhance the way we use technology to facilitate work-based learning at level 7. As there is a dearth of pedagogical research focusing on Level 7 apprentices (as this is a new curriculum) my aim is to make a valuable research based contribution to vocational education
3.3. V4: Acknowledge the wider context in which higher education operates recognising the implications for professional practice
3.3.1. Case Study 4: In addition to teaching and coaching level 7 apprentices at Aston University, I am also an End Point Assessor for the Chartered Manager's Institute which is the Awarding Body for Level 7 apprenticeship qualifications. This requires me to undertake a minimum of 35 days of continuing professional development per annum. I ensure that I familiarise myself with the needs and expectations of a diverse range of stakeholders in a volatile, uncertain, complex and ambiguous education, industry and social environments.
3.4. V1: Respect individual learners and diverse learning communities
3.4.1. Case Study 2:During my teaching career spanning almost four decades, I have successfully worked with a very diverse range of learners including professionals and those who had never previously attended school; 16 year- olds to 70 year-olds; fast learners and slow learners. I treat each of my learners with respect and kindness and work hard to meet their individual needs.