INTERVIEWS
by christian De la Cruz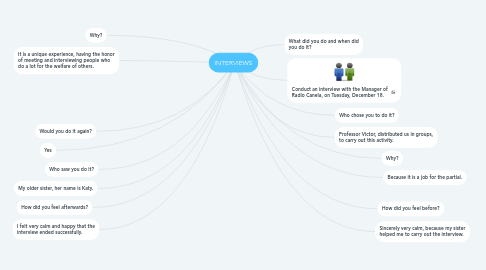 1. It is a unique experience, having the honor of meeting and interviewing people who do a lot for the welfare of others.
2. Yes
3. My older sister, her name is Katy.
4. I felt very calm and happy that the interview ended successfully.
5. Sincerely very calm, because my sister helped me to carry out the interview.
6. Because it is a job for the partial.
7. Professor Victor, distributed us in groups, to carry out this activity.
8. Conduct an interview with the Manager of Radio Canela, on Tuesday, December 18.
9. Why?
10. Would you do it again?
11. Who saw you do it?
12. How did you feel afterwards?
13. How did you feel before?
14. Why?
15. Who chose you to do it?
16. What did you do and when did you do it?