KEY013 - A little knowledge is a dangerous thing...
by
Scott Plaskett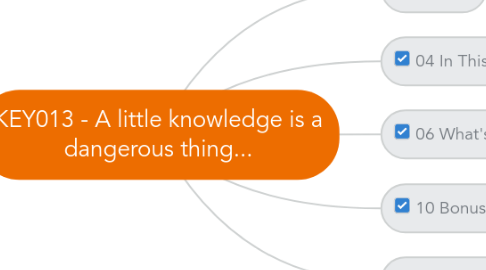 0.0
stars -
0
reviews range from
0
to
5
Mac's rule. Did I just say that out loud?
In a previous episode I shared with you that Cathy and I have migrated our computers over to Mac's. And, that I was pretty apprehensive about the whole thing.
Well, I can't tell you the fun I am having with my computer now. I have totally solved my problems with how to migrate over to Mac when I still rely quite heavily on programs that are not written for Mac's.
If you are in the market for a new computer - get a Mac. Simply one of the best computer decisions I have made in a while.
A few interesting notes about my migration:
First, I would encourage you to migrate as many of your programs to the cloud., What do I mean when I say migrate to the cloud? Well, get a Gmail account. With this comes a whole suite of free programs that will allow you to do everything you need to without the need for any other costly software. Creating documents, spreadsheets, email, etc... everything is in the cloud so you don't have to worry about keeping any of the data that supports these programs on your computer - which is the safest way of ensuring you minimize the risk of losing your data to a computer crash., And, when you do need to keep a copy of a data file or a picture or anything for that matter, simply do so in a Dropbox folder. I mentioned dropbox in a previous episode but in an nutshell, dropbox is a folder with as many sub folders as you need that keeps a copy of your files on your computer but also stores a copy in the cloud for sharing purposes, backup purposes and access purposes when you are not at your machine. If you register for a free account using the link in the show notes on this episode, you will get an extra 250MB of free storage space to adde to your already free 2 GB you get with a free account. The odd's of you using more than 2.25GB of storage is highly unlikely.
Second, for me anyways, I have some programs that just aren't written for a Mac., No problem. I installed a program called Parallels and why this does is allow me to run Windows ON my Mac., Now, don't think that I have to do anything special to do this. I just choose the Windows program I want to run, click on it and it opens it up in a separate window., The funny thing is that Windows seems to run faster on my Mac that it did on my PC. Hmmm.
It took basically two days of working on my Mac to train myself on the Mac way of doing things as opposed to the PC way., You know, things like closing a window is done from the upper left side of the window as opposed to the left.
At the end of the day, I am finding myself operating my computer faster than I was before., The touch pad gestures are really quite intuitive.
So, my recommendation for those of you PC users out there who have always wondered what it would be like to own a Mac is to go out and get one.
You will be glad you did.
A little knowledge is a dangerous thing. Especially when it comes to financial planning.
As a financial planner, I spend a great deal of my time educating my clients on things they don't know they don't know., Let me give you an example., Financial planning has a lot of moving parts., The one thing I know for sure is that every financial plan I or any other financial planner writes is going to be wrong., Did I just say that out loud?, Here is what I mean., Financial planning is based on some important variables., Personal hopes, Personal goals, Personal opinions, Assumptions, Inflation, Rate of return, Tax rate and method of calculation of taxes., Contributions levels, Now, when you compile all of the data, into your software to get a clear picture of where a client is at today and what they may be on track for, you get a better understanding of what is possible., But, if one of these variables differs, even slightly, then the long-term outcome of the financial plan is going to be way off., A lot of people feel that when they get their finical plan, they are all set., I mean shouldn't you feel this way., Well, yes, and no., Yes you should feel confident that you now have a clear understanding of what you are on track for., But, not looking at this plan every six-months will most definitely cause a lot of problems., Financial planning is the key, but financial plan progress reports are where the true power lies., It is the progress report that keeps your head in the game., Another aspect to financial planning that a lot of people didn't know they didn't know is how their planners financial planning software handles taxes., Did you know that you can run two identical plans and in one case show financial success and in the other show financial failure?, And the only difference between the two software programs is how each treats taxes?, In essence, here is what happens., With most software, the software assumes a tax rate to be placed on the cash flow both before and after retirement., The problem is (at east in Canada anyway) that we live in a marginal tax rate environment., What that means is that all of our income sources are taxed differently and at different rates depending on your level and source of retirement income., This smoothing effect on your tax rate will simply over tax most people in the early years - thus forcing less of an accumulation left to fund the later years., In essence, causing your results to indicate that you need to put a lot more away during your accumulation years., What you need is a planner who's software calculates that tax for each year of retirement - and bases the taxes on the actual cash flow., These types of calculations often times show a lower tax rate leading up to age 72 and then a higher tax rate as a result of a higher taxable cash flow., The net result is that if you don't follow the cash flow method of financial planning, you may be putting too much aside for tomorrow with too much sacrifice today., You may also not realize that if you have accumulated a certain level of wealth and you paperboy qualifies to invest in the investment solution you are invested in, you are probably in the wrong place., As your assets grow, you meet certain thresholds for a variety of investment solutions., Roughly, the thresholds are:, Up to $100,000, $100,000 to $500,000, $500,000 to $1M, $1M +, Each one of these tiers allows you to gain more attention with a lower management fee., The problem we find is that most people are unaware of this., When someones says to me, I wish I could find a way of increasing my return without increasing the risk, I say, make sure you are in the right investment solution for what you qualify for., Doing so could find you more return through lower fees - which doesn't increase risk at all., Letting the fee tail wag the dog., Here's what I mean., It is tough in the investment markets these days., Deciding where to invest, when to invest and what to invest in is a daunting task., It's at times like these when people begin to resent paying fees for their investment management when they see lacklustre returns, no returns or even negative returns., So, what happens next is people begin to say: I don't need to pay anybody to lose my money. I'm going to do it myself, for a much lower fee., So, they buy index's or ETF's., And honestly, I don't blame their motivation., The problem here is now twofold:, 1. There is nobody managing the investment - it is a passive approach so you are exposed to all the volatility., Which I get has studies to show that over the long run, this approach may provide a decent return over time., However, the passive approach is usually interrupted by emotions., Studies have shown that investors tend to "tinker" when things get tough in an effort to "do something"., Those same studies show that the more you tinker the worse you do., Over the past 10 years, in the TSX ending July 31, 2011, the average annual return for a fully invested investor was 7.83%., Now, if you missed the 10 best days in the market over that 10 year period, what do you think your return would be for that 10 year term?, 1.48%, Now, if you missed the 20 best days?, -2.35%, So, those days are pretty important., And, those days usually start JUST AFTER A MARKET CORRECTION., The question I have is, how many people do you know who will invest the day after a major market correction?, Let alone stay invested through a major market correction., The markets are just too volatile., 2. Investors are too emotional and at the end of the day, will not do what is logical., The solution then is to put someone between you and your investments., That someone is a financial planner., Would you pay someone 1% to save you from a potential 45% loss?, That's exactly what many astute investors did during the crash of 2008., My informal tally shows that investors who worked with a financial planner during that time did significantly better simply because they didn't sell on emotion., They had someone to talk to that could talk them off the ledge., So, keep in mind that there is a lot that a Certified Financial Planner knows that you don't even know you don't know., If you're getting ready to retire, you will want to work with a CFP who know's. One who specializes in helping people transition through to retirement., So, to help you in your interviewing process, I will post a special report titled 12 Key Questions You Must Ask A Financial Planner Before You Hire One - in the show notes., Get your free copy today and get out there and find yourself a financial planner who you can work with., Because, a little knowledge, is a dangerous thing.
For those of you who have taken my advice and are using Google for email (gmail) I have an amazing free tool for you to use.
The tool is called Boomerang for Gmail.
It's awesome.
01 Intro
This is The Key To Retirement Episode 13.