DANIELLE & THE ISSUES SURROUNDING HER EDUCATION
by Filippe Ricciardi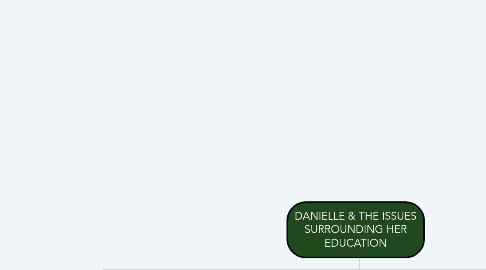 1. PREJUDICE REGARDING DANIELLE'S CULTURE
1.1. Who is concerned?
1.1.1. Aunty
1.1.2. Danielle
1.1.3. Classmates
1.2. What can be done?
1.2.1. Solution One: Although the school is in a remote location, there are still opportunities for the school to educate students on Aboriginal culture and language to increase student's awareness and history of Indigenous Australians. In doing so, this can be a successful way to increase empathy of Australians and removing pre-determined labels attached to Danielle. Research suggests that an effective way of delivering information is through members of the indigenous community (Hyde, Carpenter, & Conway, 2013). This can assist with Danielle feeling more settled within her class, as well as igniting conversations among her and other classmates. Additionally, this can encourage the integration of Indigenous communities with Australian communities (Hyde, Carpenter, & Conway, 2013).
2. TEACHERS NOT SUPPLIED WITH ADEQUATE RESOURCES & TRAINING
2.1. Who is concerned?
2.1.1. The teachers
2.1.2. The Principal
2.1.3. The Aunty
2.1.4. The classmates of Danielle
2.2. What can be done?
2.2.1. Solution Two: This appears to be a common issues among various stakeholders demonstrating its importance. A solution to minimising anxiety among teachers and school leaders is to allow teachers to collaborate together to discuss strategies for teaching particular students and classes. Reflection and collaboration can be key to planning and removing ineffective pedagogical strategies (Dixon, 2005). The principal could implement weekly collaboration sessions, for staff to discuss with ideas, problems and management strategies. Setting an allocation time, allows teachers to brainstorm ideas before hand and focus on the task.
2.2.1.1. NOTE: This would require additional work for teachers and may cause issues among staff members.
2.2.2. SOLUTION THREE: The principal and staff leaders, should keep up to date with various programs and conferences available to members of the education for additional training services. "SPELD Victoria" organises various workshops that concentrate on improving the knowledge and skills of educators on managing students with disabilities and learning difficulties. School leaders should encourage teachers to take Professional Development Days to enhance their skills, and collaborate with other teachers upon their return. Additionally, to increase the confidence of parents and carers such as Danielle's Aunty, information should be conveyed to parents to demonstrate the schools proactiveness to actively improve their procedures on assisting their child's development.
2.2.2.1. NOTE: Costs are associated with such courses and considering this is a rural school, they may have issues budgeting for such development seminars. In addition, the location of these seminars may be difficult travel to for staff members.
3. ADAPTATIONS AT THE EXPENSE OF OTHER STUDENTS \ ADAPTATIONS BRING ATTENTION TO DANIELLE'S CONDITION
3.1. Who is concerned?
3.1.1. The teachers
3.2. What can be done?
3.2.1. SOLUTION SIX: Self-efficacy can be observably lower in students with learning difficulties such as Danielle, and can therefore have a large negative impact on their studies. Elbaum & Vaughn's meta analysis (2001), determined that in-school counselling can be a successful mechanism in enhancing confidence in elementary and adolescent children (Elabum & Vaughn, 2001). Counsellors have unique skills in building resilience in children as well as providing reassurance that they are on the right path. Additionally, they can assist children with strategies on how to improve themselves within the the classroom.
3.2.2. SOLUTION FIVE: It may be appropriate to alter the learning objectives specifically for Danielle, however this should be implemented discretely. Student's develop at different stages and thus Bloom's taxonomy (1956), can be applied to either increase the learning difficulty of advanced students, or reduce the the difficulty for students appearing to struggle (Udvari-Solner, 1992). For example, different assignment topics can be administered to students based on their level of academic abilities. This is an excellent way to ensure students are advancing whilst allowing weaker students to develop at their own pace. Additionally, word length can be altered specifically to Danielle's needs, and conversely, advanced students can have their word length or presentation increased to accommodate their needs ( Udvari-Solner, 1992).
3.2.3. SOLUTION SIX: Alternatively, teachers could develop personal non-verbal cues with Danielle, as a management technique to assist her when she is distracted from a task (Marks et al, 2003). This could be in the format of a "secret" gesture between the student and teacher, that ensures the student does not have to be reprimanded in front of teachers continually, whilst further strengthening the bond between the teacher and the student, whilst eliminating the possibility of drawing unwanted attention to Danielle (Marks et al, 2003).
3.2.3.1. NOTE: Students may perceive this as ignoring punishable behaviour and favouritism, as they are unaware of the "secret agreement". This may build resentment towards the teacher and Danielle.
4. SELF DOUBT AND COMPARATIVELY INADEQUATE
4.1. Who is concerned?
4.1.1. Danielle
4.2. What can be done?
4.2.1. SOLUTION FOUR: Adaptations to classes do not necessarily need to be obvious to class members. Since Danielle has Foetal Alcohol Syndrome and may exhibit learning, attention and instructional difficulties, she may require additional attention. The teacher may wish to sit Danielle closer to front of the classroom to assist her with her concentration whilst minimising her chances of causing a disruption (Udvari-Solner,1992). Additionally, it may be beneficial to increase the amount of demonstrations to assist with instructional difficulties. These are minor adaptations that shouldn't draw attention to Danielle's condition.
4.2.1.1. NOTE: This requires a school to employ a qualified counsellor to have regular sessions with Danielle. Such a rural school may not have the means or budget for it. Additionally, having Danielle, be removed from class weekly, may draw attention to her issues, affecting her confidence and perception within her class.
4.2.2. SOLUTION SEVEN: A cooperative learning environment too can increase the ability of students with learning difficulties. Particular effective in elementary years (Elabum & Vaughn, 2001), integrating high achieving students with lower achieving students can improve social skills of students, and assist them with completing tasks. Furthermore, collaboration reassures students with difficulties that they are on par with their fellow peers (Elabum & Vaughn, 2001).
4.2.2.1. NOTE: In contrary to above point, other studies have demonstrated negative results when integrating Aboriginal students with learning difficulties in mainstream classes and groups (Mander, Cohen & Pooley, 2015). Unfortunately, when integrated with mainstream students, Aboriginal students felt inadequate when completing the same work as their peers. It appears this may be situational, and left up to the teacher to trial with Danielle.