Cell Structure
by
Aadesh Patel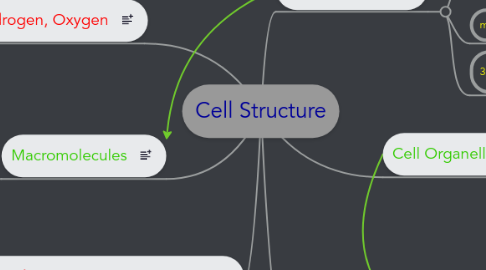 0.0
stars - reviews range from
0
to
5
Carbon, Hydrogen, Oxygen
These elements help make up carbohydrates and Lipids.
Cell Organelles
There are 8 different organelles in a cell.
Cell Wall
Cell Membrane
Mitochondria
Smooth ER
Rough ER
Golgi Apparatus
Chloroplasts
Lysosomes
Macromolecules
There are four main types of macromolecules. Lipids, Carbohydrates, Proteins, and Nucleic Acids.
Lipids
Fatty acids
Carbohydrates
Monosaccharides
Proteins
Amino Acids
Nucleic Acids
Nucleotides
Not all organelles are in prokaryotic or eukaryotic cells.
Prokaryotic
Bacteria
Nucleus
Eukaryotic
Protist
Fungi
Animal and Plant Cells
Similarities- Have Smooth and Rough ER, Lysosomes, Golgi Apparatus, and Ribosomes. Differences- Plant cells have a large central vacuole and animal cells have one small vacuole.
Carbon, Hydrogen, Oxygen, Nitrogen
These elements help make up nucleic acids and proteins.
Cell Chemistry
Hierarchy structure of cells:1. ecosystem2. community3. population4. organism5. organ system6. organs7. tissue8. cells9. organelles10. molecules11. atoms
atom
protons
neutrons
electrons
molecules
3 types of bonds
Covalent- share electronsIonic- lose an electronHydrogen- share molecules made from covalent bonds