MITE6330 Learning Design and Technology by Xuhui Quan (2011872056)
by
Andy Quan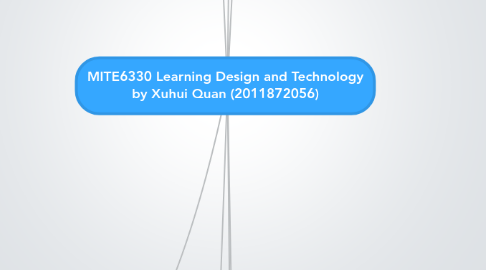 5.0
stars -
1
reviews range from
0
to
5
MITE6330 Learning Design and Technology by Xuhui Quan (2011872056)
Learning outcome
Literature
References: Churchill, D. (2007). Web 2.0 and possibilities for educational applications. Educational Technology, 47(2), 24-29.
Reflection
Additional resources
Educational technology
Methods of instruction
Learning design model
M-learning
Learning outcome
Literature
Mergel, B (1998). Instructional design & learning theories. Available at: http://www.usask.ca/education/coursework/802papers/mergel/brenda.htm
Additional resources
Learning outcome
Literature
Van Merrienboer, J. J., Clark, R. E., & de Croock, M. B. (2002). Blueprints for Complex Learning: The 4C/ID-Model. ETR&D, 50(2), 39-64.
Reflection
Learning outcome
Literature
Savery, J. R., & Duffy, T. M. (1995). Problem based learning: an instructional model and its constructivist framework. Educational Technology, 35(5), 31-38
Reflection
Additional resources
Learning outcome
Literature
Bonk, C. J., & Cunningham, D. J. (1998). Searching for learner-centered, constructivist, and sociocultural components of collaborative educational learning tools. In C.J. Bonk, & K.S. Kind (Eds.), Electronic collaborators: Learner-centered technologies for literacy, apprenticeship, and discourse, (pp. 25-50). Mahwah, NJ: Erlbaum. Available at http://www.publicationshare.com/docs/Bon02.pdf
Reflection
Additional resources
Learning outcome
Literature
Oliver, R., & Herrington, J. (2001). Teaching and learning on-line: a beginner's guide to e-learning and e-teaching in higher education. Perth, Australia: Edith Cowan University. Available at http://elrond.scam.ecu.edu.au/oliver/2002/TALO2.pdf
Reflection
Additional resources