The 5 Things I Had to Give Up to Build a Successful Business
by Danny Forest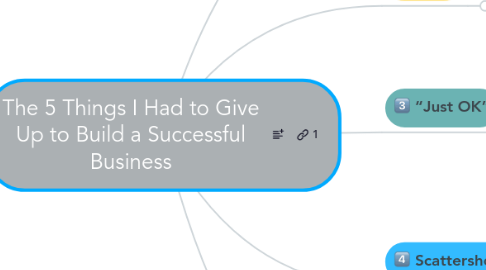 1. Excuses
1.1. Use the "No Excuses" mantra. Don't blame yourself and others.
1.2. Excuses hold you back and threaten future opportunities.
2. Vices
2.1. Give up any vices like drinking or playing internet games. You'll feel liberated.
2.2. Focus only on the things that nourish your mind, body, and soul.
2.3. Stay true to yourself
3. "Just OK"
3.1. "Just OK" wouldn't cut it
3.2. The #1 way to get new business is through referrals. The only way this happens is when you crush it out of the park.
4. Scattershot
4.1. Don't try to market to every conceivable niche.
4.2. Focus on what you're best at, define and clarify exactly what you do, then demonstrate the clear results that come from working with you or purchasing your products.
4.3. What's your focus? Who are you looking to work with? Clarify this and get specific.
5. Regret
5.1. Forgive your failures. Accept them and move on. But never forget them.
5.2. Ditch the regret and watch your productivity soar.