Laptop Rules and Internet Regulations for EDCT 203
by Sydney Reck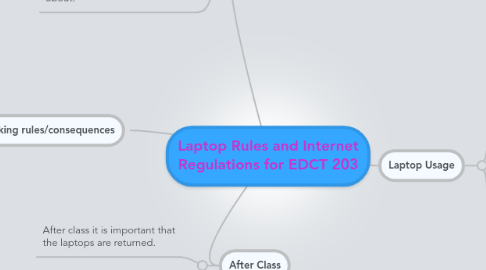 1. During Class
1.1. Students can work on assignments individually and together on collaborative assignments.
1.2. Students can look up things that the presenters are teaching about.
2. Laptop Usage
2.1. Students can use laptop for things unrelated to course when course work is finished.
2.2. Students may download programs needed for the course if not already on the laptop, or if instructor requests it.
2.3. Students should be gentle with the laptop in order to keep it in good condition.
2.4. Food and drink should be kept away from the laptops.
3. Breaking rules/consequences
3.1. If anything happens to the laptops, the student is expected to pay for the damage.
3.2. If laptops are not used properly in class the student's privilege to use them may be taken away by the instructor.
4. After Class
4.1. After class it is important that the laptops are returned.
4.2. The laptops need to be plugged in a put in the proper spot where they were found.