Reflection on Indigenous knowledges and perspectives
by Isabelle Whittle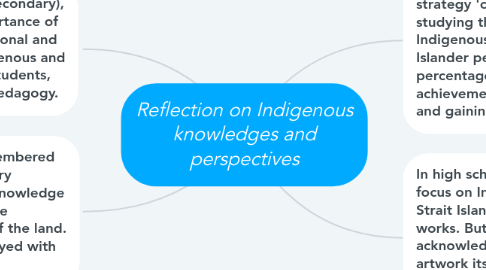 1. Masters of secondary teaching, I learnt about the government strategy 'closing the gap', studying this I learned that Indigenous and Torres Strait Islander peoples have a lower percentage of educational achievement, graduating school and gaining employment.
2. Masters of teaching (secondary), I am learning the importance of catering to the educational and cultural needs of Indigenous and Torres Strait Islander students, e.g adopting 8-ways pedagogy.
3. In primary school I remembered at the beginning of every assembly we would acknowledge the Dharawal people the traditional custodians of the land. Those words always stayed with me.
4. In high school art class we would focus on Indigenous and Torres Strait Islander artists and their works. But we never actually acknowledge the contents of the artwork itself and the background. There wasn't much depth.