ClearerLink Site Map
by Luis Gonzalez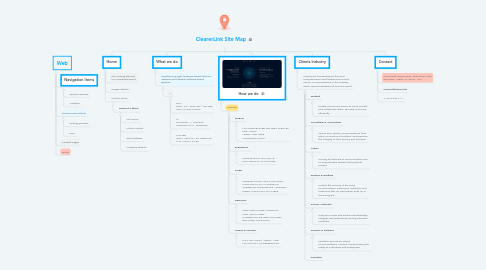 1. Home
1.1. The missing element in a connected world
1.2. imagen/diseño
1.3. Click to action
1.3.1. Request a demo
1.3.1.1. Full Name
1.3.1.2. Phone number
1.3.1.3. email address
1.3.1.4. company website
2. Contact
2.1. ClearerLink, 2028 E Ben White Blvd, Suite 240-4000, Austin, TX 78741, USA
2.3. +1-212-399-1111
3. How we do
3.1. Features
3.1.1. SHIELD
3.1.1.1. MULTI-ENCRYPTED SECURE MODULES FOR VOICE, VIDEO, AND USER AUTHENTICATION
3.1.2. ELEMENTS
3.1.2.1. UNIQUE, RICH, EXCLUSIVE COLLABORATIVE FEATURES
3.1.3. CORE
3.1.3.1. CORE ROUTING AND SWITCHING FUNCTIONALITY, CAPABLE OF CURRENTLY SUPPORTING 1,000,000+ USERS AND EASILY SCALABLE
3.1.4. GROUND
3.1.4.1. INFRASTRUCTURE-AGNOSTIC AND VIRTUALIZED CARRIER-GRADE GEO-LOCATED NETWORK TOPOLOGY
3.1.5. VIDEO & SOUND
3.1.5.1. FULL HD AUDIO, VIDEO , AND MULTI-PARTY CONFERENCING
4. What we do
4.1. Transforming rigid hardware-based telecom networks into flexible software-based systems
4.1.1. V1
4.1.1.1. DNA END - TO - END 360 º SECURE COMMUNICATIONS
4.1.1.2. IP BUILDING A STRONG INTELLECTUAL PROPERTY
4.1.1.3. FUTURE FIRST TELCOM TO OPERATE O N / FROM MARS
5. Web
5.1. Navigation Items
5.1.1. Special Features
5.1.2. Analytics
5.2. domain name details
5.2.1. hosting provider
5.2.2. DNS
5.3. Content Pages
5.4. Forms
6. Clients Industry
6.1. ClearerLink has developed the most comprehensive and flexible End-To-End Secure Communications in the industry which serves businesses all over the world
6.1.1. Medical
6.1.1.1. Enable clinical care teams to communicate and collaborate faster, securely, and more efficiently
6.1.2. Consulting & Accounting
6.1.2.1. Secure your clients' communications from cyber criminals and violators, and preserve the integrity of their privacy and business.
6.1.3. Luxury
6.1.3.1. Turning all channels of communication into an impenetrable fortress that protects privacy.
6.1.4. Finance & Banking
6.1.4.1. Control the security of the voice communication inside your institution and make sure that no information ends up in the wrong ear
6.1.5. Privacy Advocate
6.1.5.1. Help your cause and ensure confidentiality, integrity, and authenticity among advocate members
6.1.6. Security & Defense
6.1.6.1. Facilitate and secure critical communications. Prevent compromising the safety of individuals and enterprises.
6.1.7. Cannabis