Launch your SAAS and Scale with $11,000 a month budget to a $100,000 MRR business. Copyright - Sumit Ghosh
by Sumit Ghosh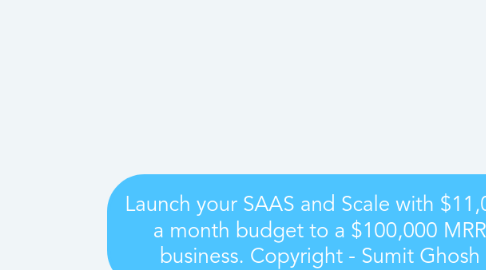 1. PowerAdSpy/Empmonitor CaseStudy
2. Launch in FB Groups
3. Analyse SEO of competition
4. Paid Adwords Camps
5. Paid FB Camps
6. Product Hunt Launch
7. All SAAS related groups
8. Startup Groups
9. Use Ahrefs to find all their baclinks,get the SEO team to try to get backlinks from same sites or similar DR/UR - Budget $2k a month.
10. Activate the guest blogging team to start doing guest blog outtreach, budget $2k a month for paid placements.
11. Content Marketing - keyword research and push blog posts min 4 per week and get out video, info-graphics and lead magnet content for the blog. Monthly $2k.
12. Start with paid adwords on the second or third month, only after all landers and funnels are fully tested and optimized, don't rush this one. Start with min $1500 a month and scale slowly based on ROI, ideally doubling the budget every month and optimizing the campaign.
13. Start with Paid Facebook camps, in the second month, test audiences extensively, run lead-gen camps on your lead-magnet pages. Start with a minimum budget of $1500 a month and then start scaling from there. Find competion ads on PowerAdSpy and tweak creatives, find winners based on high CTR and targetting and then scale up from there.
14. Re-marketing - Setup remarketing camps on both Google display and FB. Min $1000 per month and then scale if daily budget is getting used up.
15. Campaign Structure - Create 1 adgroup for high purchase intent keywords and then keep on adding more adgroups based on similar keywords, try to follow skag structure when each keyword type is put in 1 adgroup, keep adding similar keywords in that. This will help to send targeted traffic to proper landers. Brand Bidding - Do this from Day 1, bid on competetion brands and write appealing high CTR ad copy to siphon their brand traffic. This is very important and gets you paid customers from day 1.
16. LeadMagnet,everything should send traffic to your landpages and funnels to collect the leads, collect their emails, phone numbers and skype if possible.
17. Send emails, create an automated email funnel, which should entice them to turn from a free to a paid user.
18. Get your inside sales guys to call them over phone and skype for demos or webinars and try to close sales.
19. Send targeted push notifications of your blog content to your leads, educating them about features, use-cases, case-studies.
20. Audience Segmentation - Segment the audience using segment.io and re-target them with marketing content based on segmentation. FB/Goog and Push can be used for re marketing.
21. Sales $$$$$
22. Post Sales, Send them weekly content mailers, web-pushes and billing communication prior to charging their card or paypal. This reduces your churn. Add product features which will make them login to the product daily, that what they feel the value of keeping the subscription.