Citations to boost your Organic SEO!
by Tyler Ford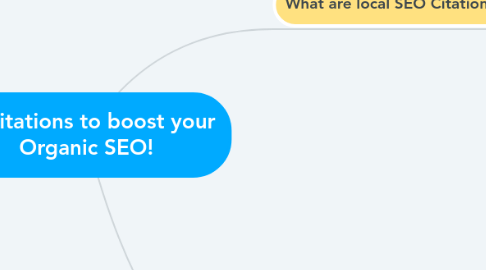 1. What are local SEO Citations?
1.1. A citation is an online reference to your business's name, address and phone number (NAP). Like links to your website, Google uses them when evaluating the online authority of your business. Unlike links though, citations don't need to be linked to your business's website in order for you to be credited for them. So, having your NAP listed in plain text is fine.
1.1.1. NAP
1.1.1.1. Name
1.1.1.2. Address
1.1.1.3. Phone
1.2. A partial citation is one which includes only part of your NAP – maybe your name and phone number or name and address. This is better than nothing, but not as beneficial as a full citation. A full citation is one which includes your business's complete NAP. It doesn't matter how that information is visibly listed (horizontally or vertically), so long as it's all there.
1.3. For a citation to help with your local SEO strategy, it's important that it exactly matches the NAP on your website and on your Google My Business page. What format you choose for your citations isn't important, but picking one format and sticking with it is. You need to be 100% consistent in the name (abbreviations? Ltd?), address (suite number? floor?), and phone number (spaces or no spaces?) used when building citations.
2. Where can you get citations?
2.1. Google My Business Page (example)
2.1.1. https://g.page/webuyhomesintucson?gm
2.2. Bing Places (example)
2.2.1. https://www.bingplaces.com/Dashboard/BusinessDashboard?id=1970324839127538
2.3. Press Releases (example)
2.3.1. We Buy Homes In Tucson iBuyer Service
2.4. Better Business Bureau (example)
2.4.1. We Buy Homes in Tucson | Better Business Bureau® Profile
2.5. Directory Sites (example)
2.5.1. Cash Home Buyers Directory
2.6. Facebook (example)
2.6.1. Sell Tucson Home Fast