Distance Education in the U.S. & Nursing Concept Map
by Amber Thompson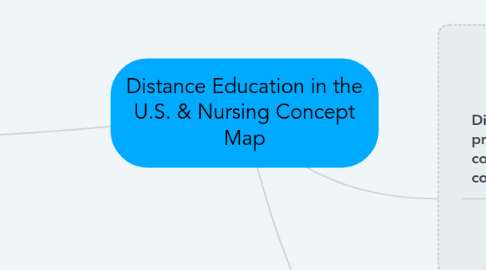 1. Distance Education Program-a program in which course work is completed via distance education courses.
1.1. Web Facilitated Course-A course that uses web-based technology to facilitate what is essentially an online course.
1.2. Blended/Hybrid Course-A course that blends both face to face and online delivery.
1.3. Online-A course where most or all of the content is delivered in an online format.
1.3.1. May be delivered in a synchronous or asynchronous format for students.
1.3.2. Usually utilizes a Learning Management System (LMS)
2. 2.85 million students in the U.S. receive all of their education online.
2.1. 55% of exclusive distance education students live in the same state in which they receive the education and 42% of the exclusive distance education students are studying at out of state institutions.
2.2. Public and private not for profit institutions have grown their distance learning enrollments yearly.
3. Accreditation-a programs public statement of continued commitment.
3.1. Southern Association of Colleges and Schools (SACS)-A regional accrediting body for the southern states offering higher education.
3.1.1. For purposes of accreditation SACS defines distance education as a formal educational process in which a majority of the interactions occur when students and instructors are not in the same place.
3.2. Commission on Collegiate Nursing Education (CCNE)-A specialized and professional accreditation agency that seeks to promote the quality and integrity of baccalaureate and graduate degree nursing programs.
3.2.1. For purposes of accreditation CCNE standards have to be met by all types of nursing education including distance learning.
3.3. National League for Nursing Commission for Nursing Education Accreditation (NLN CNEA)-Uses the NLN's core values to foster quality and excellence in nursing education.
3.3.1. For purposes of accreditation the NLN CNEA standards are applied to all types of nursing programs, including distance education programs.