Wisdom of the Crowds in FaceBook, Lior Zoref
by
Udi h Bauman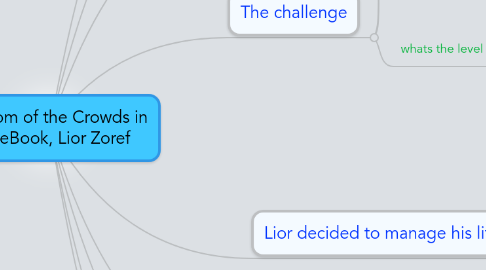 0.0
stars - reviews range from
0
to
5
Wisdom of the Crowds in FaceBook, Lior Zoref
conditions for Wisdom-of-the-Crowd exist in Facebook
Lots of crowd
Diversity
Types of Wisdom-of-the-Crowd
Cognition
Coordination
Cooperation
Different scenarios
Quantitative vs Qualitative questions
Creative idea
The challenge
<screenshot of long thread>
how to convert it to collective intelligence?
whats the level of reliability in the information in social networks?
Lior decided to manage his life by the Collective Intelligence - outsource his life decisions to the crowd
lives by it
how does it work?
There are others doing it
Claim:
Today, the Social Networks are mainly for Sharing, in the future it may be for Thinking
Example
Building a presentation using Crowd-Sourcing
Mind sharing
a proper term
Q&A
How many followers needed?
Value of contribution by others