Language Theoretical Perspectives
by Jessica Beavers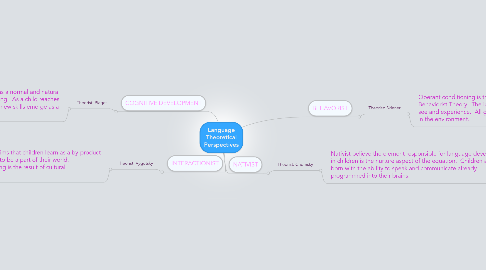 1. NATIVIST
1.1. Theorist: Chomsky
1.1.1. Nativist believe the element responsible for language development in children is the nurture aspect of the equation. Children are born with the ability to speak and communicate already programmed into their brains.
2. COGNITIVE DEVELOPMENT
2.1. Theorist: Piaget
2.1.1. Language development occurs as a normal and natural part of growing up and developing. As a child reaches each new developmental stage, new skills emerge as a result.
3. INTERACTIONIST
3.1. Theorist: Vygotsky
3.1.1. This theory claims that children learn as a by-product of attempting to be a part of their world. All new learning is the result of cultural interactions.
4. BEHAVORIST
4.1. Theorist: Skinner
4.1.1. Operant conditioning is the biggest element involved in the Behaviorist Theory. The idea is that children learn from what they see and experience. All gained knowledge is the result of stimuli in the environment.