SWOT Analysis of EE process
by
Philippa Derry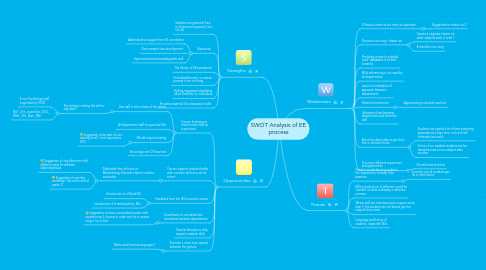 0.0
stars -
0
reviews range from
0
to
5
Strengths
patents strong brand names good reputation among customers cost advantages from proprietary know-how exclusive access to high grade natural resources favorable access to distribution networks  
Students are generally free to follow their passions (-but not all)
Resources
The Variety of EEs produced
Final deadline early to ensure process is not too long.
Rolling negotiated deadlines allow flexibility for individuals
Provides essential Uni preparation skills
Threats
shifts in consumer tastes away from the firm's products emergence of substitute products new regulations increased trade barriers
Need to avoid denying students the opportunity to study their passions
IBOs introduction of reflection could be 'overkill' on what is already a reflective process.
Where staff are volunteering to support more than 5, the students do not always get the support they need.
Language proficiency of students, especially NCs
Weaknesses
lack of patent protection a weak brand name poor reputation among customers high cost structure lack of access to the best natural resources lack of access to key distribution channels
5 Essays is seen as too many to supervise
Process is too long / drawn out
Providing access to suitable 'paid' databases is limited currently
MLA referencing is not used by all departments.
Lack of coordination of approach between departments
Parental interference
Unbalance load between departments and therefore staff
Not all students able to get their first or second choice
Too many different supervisors and approaches
Opportunities
an unfulfilled customer need arrival of new technologies loosening of regulations removal of international trade barriers
Can we find ways to involve more staff as supervisors
Can we support students better with common skills as a whole cohort
Feedback from the IB Curriculum review
Coordinator to centralise and coordinate between departments
Teacher librarian to help support research skills
Promote a more even spread between the groups