Life Skills Programme (LSP) Coursework
by Min Low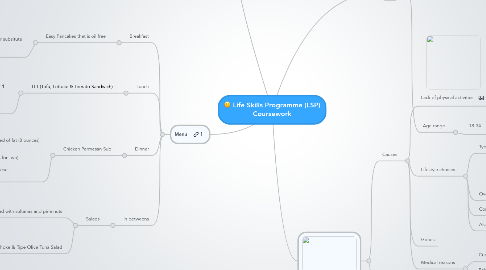 1. Adults
1.1. Nutrition needed per day
1.1.1. Calories
1.1.1.1. 2200
1.1.2. Proteins
1.1.2.1. about 56g
1.1.2.2. 10 to 35 percent of total daily calorie intake
1.1.3. Carbohydrates
1.1.3.1. about 130g per day
1.1.3.2. approximately 45 to 65 percent of total daily calorie intake
1.1.4. Cholestrol
1.1.4.1. <300mg
1.1.5. Calcium
1.1.5.1. 400
1.1.6. Sodium
1.1.6.1. <2400 mg
1.1.7. Dietary Fiber
1.1.7.1. Males
1.1.7.1.1. 28-34mg
1.1.7.2. Females
1.1.7.2.1. 22-28mg
1.1.8. Iron
1.1.8.1. Males
1.1.8.1.1. 20mg
1.1.8.2. Females
1.1.8.2.1. 30mg
1.1.9. Fats
1.1.9.1. Total fats
1.1.9.1.1. < 73g
1.1.9.2. Saturated Fats
1.1.9.2.1. <24g
1.2. Age range
1.2.1. 18-34
2. Obesity
2.1. Causes
2.1.1. Lack of physical activities
2.1.2. Lifestyle choices
2.1.2.1. Type of food
2.1.2.1.1. Junk food
2.1.2.1.2. Processed food
2.1.2.2. Over-eating
2.1.2.3. Comfort-eating
2.1.2.4. Alcohol
2.1.3. Genes
2.1.4. Medical reasons
2.1.4.1. Cushing's syndrome
2.1.4.2. Polycistic ovary syndrome
2.2. Health Implications
2.2.1. Coronary heart diseases
2.2.2. Type 2 diabetes
2.2.3. Cancers
2.2.3.1. Colon cancer
2.2.3.2. Breast cancer
2.2.3.3. Endometrial cancer
2.2.4. Hypertension
2.2.4.1. High blood pressure
2.2.5. Dyslipedemia
2.2.5.1. High total cholesterol
2.2.5.2. High levels of triglycerides
2.2.6. Stroke
2.2.7. Liver and gallbladder disease
2.2.8. Sleep apnea and respiratory problems
2.2.9. Osteoarthritis
2.2.10. Gynecological problems
2.2.10.1. Infertility
2.2.10.2. Abnormal menses
3. Menu
3.1. Breakfast
3.1.1. Easy Pancakes that is oil free
3.1.1.1. 1 cup water 1 cup soymilk blender full of ice 1/2 cup honey or 1 cup sugar subsitute 1 t vanilla 1/2 can frozen orange juice
3.2. Lunch
3.2.1. TLT (Tofu, Lettuce & Tomato Sandwich)
3.2.1.1. 1 tablespoon Dijon mustard 1 tablespoon reduced-sodium soy sauce 1 teaspoon adobo sauce from canned chipotle peppers, (see Ingredient note), divided 14 ounces water-packed extra-firm tofu, drained and rinsed 4 tablespoons reduced-fat mayonnaise 8 slices crusty whole-wheat bread, toasted 4 pieces green-leaf lettuce 2 medium tomatoes, sliced
3.3. Dinner
3.3.1. Chicken Parmesan Sub
3.3.1.1. 1/4 cup all-purpose flour 1/4 teaspoon kosher salt 1/2 teaspoon freshly ground pepper 2 boneless, skinless chicken breasts, trimmed of fat (8 ounces) 3 teaspoons extra-virgin olive oil, divided 1 6-ounce bag spinach 1/3 cup prepared marinara sauce, (see Tips for Two) 2 tablespoons grated Parmesan cheese 1/4 cup shredded part-skim mozzarella cheese 2 soft whole-wheat sandwich rolls, toasted
3.4. In betweens
3.4.1. Salads
3.4.1.1. Courgette salad with sultanas and pine nuts
3.4.1.1.1. Ingredients 2 tbsp extra virgin olive oil 3 courgettes, thickly sliced 1 clove garlic, sliced juice of 1/2 lemons small handful of sultanas small handful of pine kernels black pepper
3.4.1.2. Artichoke & Ripe Olive Tuna Salad
3.4.1.2.1. An unusual and rich flavor combination; serve this salad with sliced tomato on a bed of lettuce or on French bread.
4. Meals
4.1. Breakfast
4.1.1. Eaten within 1 hour after a person wakes up
4.1.1.1. Usually bread or cereals
4.2. Lunch
4.2.1. Eaten at Midday, 11.30-2
4.2.1.1. Smaller than Dinner, usually Rice, Noodles, Buffet, Sandwhich, or Western meals.
4.3. Dinner
4.3.1. Eaten in the evening. 5-9
4.3.1.1. Main meal of the day, Rice or Western Meals, Must be full.
4.4. Supper
4.4.1. Eaten before going to bed
4.4.1.1. Light meal after dinner, usually consisting of cake with tea.