Web analytics course
by Abdelrahman Shalaby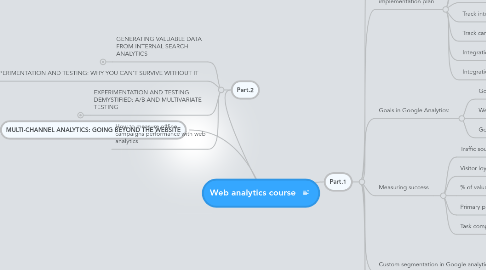 1. MULTI-CHANNEL ANALYTICS: GOING BEYOND THE WEBSITE
2. Part.1
2.1. Introduction Web analytics
2.1.1. Defining web analytics
2.1.2. 4 attributes for great metrics
2.2. Google analytics implementation plan
2.2.1. Track domains, cross domains and subdomains
2.2.2. Track downloads
2.2.3. Track YouTube videos
2.2.4. Track Ecommerce and revenue
2.2.5. Track internal Search
2.2.6. Track campaigns
2.2.7. Integration with AdWords
2.2.8. Integration with Webmaster tools
2.3. Goals in Google Analytics:
2.3.1. Goals definition and types
2.3.2. Web analytics measurment framework
2.3.3. Goals setup
2.4. Measuring success
2.4.1. Traffic sources report
2.4.2. Visitor loyalty and recency
2.4.3. % of valuable exit
2.4.4. Primary purpose
2.4.5. Task completion rate
2.5. Custom segmentation in Google analytics
2.5.1. Why segmentation is so important.. How to do basic segmentation in Google Analytics How to segment by new vs. returning users and how this allows you to customize user experiences. How to segment based on search traffic. How to segment by referring sites and how this allows you to optimize your acquisitions. How to build micro segments.
2.6. Campaigns analysis
2.6.1. SEO performance analysis
2.6.2. AdWords campaigns analysis
2.6.3. Email campaign analysis
2.6.4. Direct traffic analysis
2.7. Custom reporting in Google analytics
2.7.1. Page Efficiency Analysis Report.
2.7.2. Visitor Acquisition Efficiency Analysis Report.
2.7.3. Paid Search Performance Analysis Micro-Ecosystem!
2.8. Social media analysis
2.8.1. What are the best Social Media Metrics?
2.8.2. How to measure your social media presence performance?
3. Part.2
3.1. GENERATING VALUABLE DATA FROM INTERNAL SEARCH ANALYTICS
3.1.1. Why internal site search is important. The two things that are critical to getting benefits from your internal site search data. How you can get your hands on internal site search data. What internal site search metrics you should focus on. How to segment your internal search data.
3.2. EXPERIMENTATION AND TESTING: WHY YOU CAN'T SURVIVE WITHOUT IT
3.2.1. Why you are at a strategic disadvantage if you are not testing. The three questions you should be asking your visitors. The greatest challenge for any marketer. Why relevancy is most important to improving conversion rates. The enormous benefits of experimentation and testing.
3.3. EXPERIMENTATION AND TESTING DEMYSTIFIED: A/B AND MULTIVARIATE TESTING
3.3.1. The definition of A/B testing. The pros and cons of A/B testing. How multivariate testing works. Who the major multivariate testing vendors are. The pros and cons of multivariate testing.
3.4. How to measure offline campaigns performance with web analytics