Weaving Your Web 2.0 PeRSSonal, Selfguided Learning, and RSSearch
by
Ulrich Schrader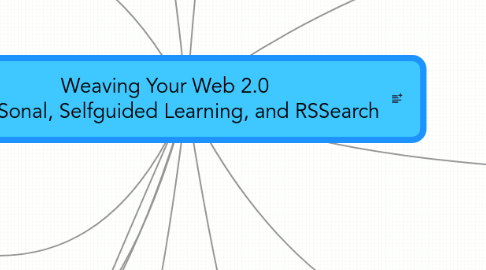 4.8
stars -
5
reviews range from
0
to
5
Weaving Your Web 2.0 PeRSSonal, Selfguided Learning, and RSSearch
"PeRSSonal" first seen on the Informaticopia blog. Term has been phrased by Peter Murray.
RSS - Format
Integrator/Interface Standard
Standard
RSS is a standard in the way that it is not even defined what the abbreviation stands for. Still it is a practical standard that mostly works!
Really Simple Syndication
Rich Site Summary
RDF Site Summary, Resource Description Framework
Weblog (Blog)
Notebook
private
public
open for comments
usually sorted chronologically descending
Platform for communication
Comments
Peer-Review
RSS-Feeds
Examples
Blogger (Google)
Wordpress
Content Management Systems (CMS)
Blogreader
Subscribing of RSS-Feeds
"Pull" not "Push"
no Spam
"I decide!"
Like a postbox, just over the web
Create your own newspaper/journal
Build by aggregating RSS-feeds
Easy to change
New interests, new content
Browser-based
Flock
Internet Explorer
Firefox
Web-based
Bloglines
Google Reader
myMSN
Google Personalized Homepage
iGoogle
Participative Web
Participative web
Everyone can participate and share!
Services
Use, Remix, Share
Text, Blogs, Wikis, Google Documents, Google Notebook, Zotero, Ubernote, Evernote
Images, Flickr, WikiMedia
Literature, CiteULike, Connotea, 2Collab, Zotero, BibSonomy
Presentations, Slideshare
Searches, National Library of Medicine, Google News Suche, Technorati
Links, Del.icio.us, Digg, Diigo
Geographical Places, Google myMaps
Mindmaps, Mindmeister
Videos, Google Video, YouTube
Personal Spaces, mySpace, FaceBook, StudiVZ
Microblogs, Twitter, Plurk
Social Networks, Ning, Facebook
Paradigm "Sharing"
Learning content
Relevance
Usability
Content
Time
Place
"I decide!"
Interactivity
Use
Reflect/Transpone
Communicate
Informal Learning
Self guided
What
When
Where
How
Search for content
Search generates new RSS-Feeds
Personal Learning Environment (PLE)
Content Management Systems (CMS)
Not institutionally dependend
Sustainability
Learning Management Systems
Institutionelle Learning Management Systeme haben den Nachteil, dass nach Abschluss des Studiums die Inhalte in der Regel nicht mehr verfügbar sind. Bestenfalls müssen diese aus mehreren LMS zusammengesucht werden.
RSS-Aggregator
iGoogle
Blogreader
Custom Search Engines
Legal aspects
Code of Conduct
Building your professional network (Your community)
Follow authors
Comment
Offer own content
Be followed
Modelled after Chris Brogan's Blog
Before
Twitter Search for talk about conference, Decide to follow them, Start conversation
Flickr Search, Recent Pictures of people to meet
Blog Search, Google Blog Search, Subscribe to feed, Technorati, Subscribe to feed
Search for people's blog and twitter, Follow/Subscribe
Search for recent industry news, Google, Google News, Blogs
Check people's twitter
Check LinkedIn for conference city and peoples profiles
Ask friends on facebook if they are coming.
Hitchhikr to look up published conference tag
Prepare some good blogs
Twitter that you are at the conference
During
Organize meeting/party, Twtvite
Twitter where you are, so people can meet you
Consider to blog about sessions you visited