Distractions and Achievements, Question- How can we as take away the distraction and bullying and navigate through it all?
by Lindsey Knebel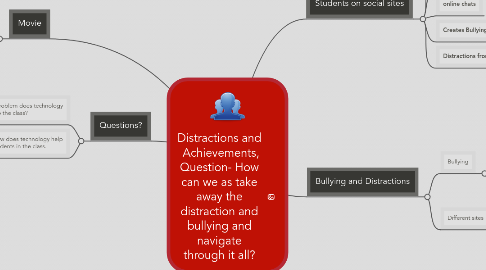 1. Students on social sites
1.1. Facebook
1.1.1. Goal 1
1.1.2. Goal 2
1.2. Twitter
1.2.1. Session Rule 1
1.2.2. Session Rule 2
1.3. online chats
1.4. Creates Bullying
1.5. Distractions from what is being learned
2. Bullying and Distractions
2.1. Bullying
2.1.1. While teachers are teaching, students can be bullied by other students using social networking.
2.1.2. Can linger to outside the class room as well
2.2. Different sites
2.2.1. Students can be on different websites instead of what they are suppose to be doing
3. Movie
3.1. Teacher Students classroom setting.
3.2. Problem: Student being bullied in class.
3.3. Solution:
3.4. Outcome: Students being able to use technology in and outside of the class for learning.
4. Questions?
4.1. What problem does technology bring to the class?
4.2. How does technology help students in the class.