Sleep and daytime functioning in children with FASD and ASC
by Rabya Mughal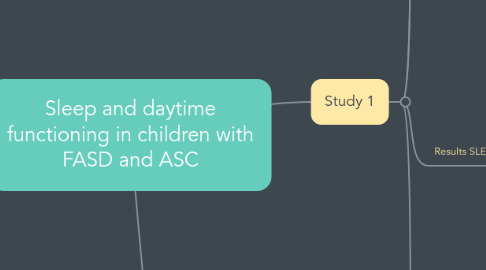 1. Study 1
1.1. Lit review
1.1.1. Anxiety
1.1.1.1. sleep
1.1.1.2. ASC
1.1.1.3. FASD
1.1.2. EF
1.1.2.1. sleep
1.1.2.2. ASC
1.1.2.3. FASD
1.1.3. Behaviour
1.1.3.1. sleep
1.1.3.2. ASC
1.1.3.3. FASD
1.2. Methods
1.2.1. Materials
1.3. Results SLEEP
1.3.1. Bedtime resistance
1.3.1.1. FASD: Obsessive, Inhibition, Attention
1.3.1.1.1. TD: Separation, Inhibition, BRIEF TOTAL
1.3.1.2. Significant similarity
1.3.1.3. Clinical and TD groups not different
1.3.2. Sleep Onset Delay
1.3.2.1. FASD: Shifting, Attention
1.3.2.1.1. TD: Panic, Separation, Physical Injury
1.3.3. Sleep Duration
1.3.3.1. FASD: Panic/ obsessive compulsive/ SCAS total/ Working memory/ planning organising/ Monitoring/Inhibition/ Emotional control/ BRIEF/ thought problems/ CBCL total
1.3.3.1.1. TD: Planning organising, emotional control, BRIEF total
1.3.4. Sleep Anxiety
1.3.4.1. FASD: Separation anxiety, physical injury/ Organising materials, monitoring, initiation, emotional control/ anxious behaviour, CBCL total.
1.3.4.1.1. TD: Planning and organising, emotional control, BRIEF total.
1.3.4.2. Significant similarity
1.3.5. Night Wakings
1.3.5.1. FASD:
1.3.5.1.1. TD: Somatic, Attention
1.3.6. Parasomnia
1.3.6.1. FASD: working memory, planning and organising, monitoring, BRIEF total/ social problems, thought problems, attention.
1.3.6.1.1. TD: Panic, SCAS total/ Shifting, BRIEF Total/ withdrawn, social problems
1.3.7. SDB
1.3.7.1. FASD: Anxious behaviour
1.3.7.1.1. TD: Social anxiety. physical injury, social problems, obsessive compulsive, generalised anxiety, SCAS total/ somatic/ thought problems/ delinquency/ cbcl total
1.3.7.2. Significant similarity
1.3.7.3. Clinical and TD groups not different
1.3.8. Daytime Sleepiness
1.3.8.1. FASD: social phobia/ shifting
1.3.8.1.1. TD: Physical injury, obsessive compulsive, Generalised anxiety/ CBCL total, withdrawn, somatic, anxious behaviour, social problems, thought problems,
1.3.9. Composite
1.4. Results PSYCHOMETRIC
1.4.1. SCAS
1.4.2. BRIEF
1.4.3. CBCL
2. Study 2
3. Literature review