GREETINGS AND FAREWELLS
by
Jesus Flores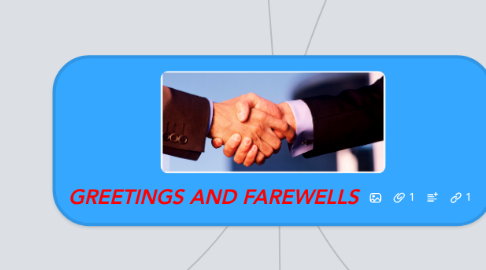 0.0
stars -
0
reviews range from
0
to
5
Information expressed when getting or leaving SOMEONE OR SOMEWHERE.
FAREWELLS
When you leave a place.
FORMAL FAREWELLS
INFORMAL FAREWELLS
WHAT ARE THEY?
Something polite or friendly that you say or do when you meet or leave someone/somewhere.
GREETINGS
When you get a place.
FORMAL GREETINGS
INFORMAL GREETINGS
Something you say answering a question of greeting.
POLITE WORDS/EXPRESSIONS
I think so./I believe so.
I don't think so./I don't believe so.
Maybe/perhaps
Welcome (to)...!
Come in!/Please, come in!
Please, make yourself right at home!
Thank you/thanks
Thank you very much/thanks a lot/thank you so much.
Thanks a million!
I'm very grateful.
You're welcome.
No, thank you!
It was nothing./Don't mention it.
My pleasure./The pleasure was mine.
Please
Gladly!
Congratulations!
Of course!
I'm sorry.
I'm very/so sorry.
Excuse me.
It's okay./It's all right.
Everything's okay/all right.