GREETINGS AND FAREWELLS
by
Jesus Flores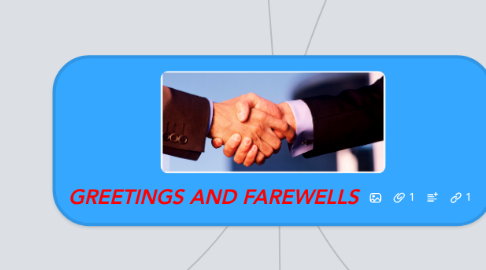 0.0
stars -
0
reviews range from
0
to
5
Information expressed when getting or leaving SOMEONE OR SOMEWHERE.
FAREWELLS
When you leave a place.
FORMAL FAREWELLS
"Good night"
"Goodbye"
INFORMAL FAREWELLS
See you soon/later.
See you tomorrow.
I'll see you later.
Se you soon/then.
Bye
WHAT ARE THEY?
Something polite or friendly that you say or do when you meet or leave someone/somewhere.
GREETINGS
When you get a place.
FORMAL GREETINGS
"Good morning"
"Good evening"
"Good afternoon"
Hello
How are you?
How are you all?
INFORMAL GREETINGS
Hi
Hey
What's up?
How are you doing?
How are you getting on?
How are things?
How's it going?
What's happening?
Something you say answering a question of greeting.
good/fine/well
bad/not well
very good/well
pretty good/quite well
not very good/well
oakey/so-so
terrible/ really bad
Fine/Good, and you?
Fine, and you all?
POLITE WORDS/EXPRESSIONS
I think so./I believe so.
Creo que sí.
I don't think so./I don't believe so.
Creo que no.
Maybe/perhaps
Tal vez/quizá(s)
Welcome (to)...!
¡Bienvenido/Bienvenida/Bienvenidos/Bienvenidas (a)...!
Come in!/Please, come in!
¡Pasa!/¡Pase!/¡Pasad!/¡Pasen!
Please, make yourself right at home!
¡Estás en tu casa!/¡Está Ud. en su casa!
Thank you/thanks
Gracias
Thank you very much/thanks a lot/thank you so much.
Muchas gracias
Thanks a million!
¡Mil gracias!
I'm very grateful.
Estoy muy agradecido(a).
You're welcome.
De nada.
No, thank you!
¡No, gracias a ti!¡No, gracias a Ud.!¡Al contrario!
It was nothing./Don't mention it.
No hay de qué.
My pleasure./The pleasure was mine.
Un placer./El gusto fue mío.
Please
Por favor
Gladly!
¡Con mucho gusto!
Congratulations!
¡Felicidades!/¡Felicitaciones!/Enhorabuena!
Of course!
¡Cómo no!/¡Claro!/¡Claro que sí!/¡Por supuesto!/¡Desde luego!
I'm sorry.
Lo siento./Perdón./Disculpe.
I'm very/so sorry.
Lo siento mucho.
Excuse me.
Perdón./Con permiso.
It's okay./It's all right.
Está bien.
Everything's okay/all right.
Todo está bien.