"Elements of Short Stories"
by Luz Chávez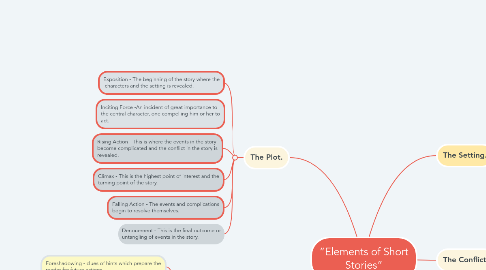 1. The Plot.
1.1. Exposition - The beginning of the story where the characters and the setting is revealed.
1.2. Inciting Force -An incident of great importance to the central character, one compelling him or her to act.
1.3. Rising Action - This is where the events in the story become complicated and the conflict in the story is revealed.
1.4. Climax - This is the highest point of interest and the turning point of the story.
1.5. Falling Action - The events and complications begin to resolve themselves.
1.6. Denouement - This is the final outcome or untangling of events in the story.
2. Special Plot Techniques.
2.1. Foreshadowing - clues of hints which prepare the reader for future actions.
2.2. Flashback - looks back at events that have already occurred
2.3. Dialogue – conversation between characters
2.4. Suspense – anticipation as to the outcome of events.
3. Figurative Language
3.1. Simile.
3.2. Metaphors.
3.3. Personification.
3.4. Alusion.
4. The Setting.
4.1. Place: Where is the action of the story taking place? (Geographical Location)
4.2. Place: Where is the action of the story taking place? (Geographical Location)
4.3. Time: When is the story taking place? (Historical period, time of day, year)
4.4. Weather Conditions: Is it rainy, sunny, stormy, etc.?
4.5. Social Conditions: Does the story contain local color of a particular place)?
4.6. Atmosphere: What feeling is created at the beginning of the story?
5. The Conflict.
5.1. External - A struggle with a force outside one's self.
5.2. Internal - A struggle within one's self.
6. Point of View.
6.1. Point of view is the position from which the narrator tells the story.
7. Literary Devices.
7.1. Symbolism - a similar object, action, person, or place or something else that stands for something abstract
7.2. Irony: A contrast or discrepancy between one thing and another.
7.3. Imagery: images and language that appeals to the senses
8. Theme.
8.1. It is the author's underlying meaning or main idea that he is trying to convey.