The Universe of Thoughts
by Nicholas Foon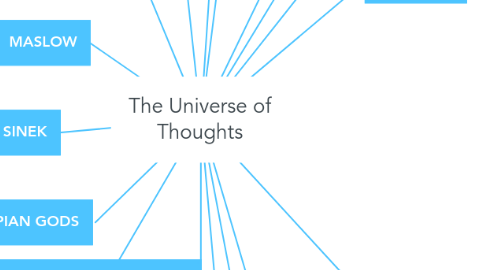 1. THE RESILIENCE PROJECT
1.1. Gratitude
1.2. Empathy
1.2.1. The power to show vulnerability
1.3. Mindfulness
1.3.1. To centre yourself and live in the present
1.4. Resilience through connections
1.5. Disconnect from your device
2. ADLERIAN THEORY (the courage to be disliked)
2.1. Life tasks
2.1.1. Self Acceptance
2.1.1.1. You are the only one who can change yourself Self-acceptance is focusing on what one can change rather than on what one cannot
2.1.1.2. "God, grant me the serenity to accept the things I cannot change, courage to change the things I can, and wisdom to know the difference" Serenity Prayer
2.1.2. Confidence in Othets
2.1.2.1. Confidence is a soul belief in others, trust is a contract.
2.1.3. Contribution to others
2.1.3.1. Happiness comes from contribution to others This is the guiding star, even if others dislike you
2.1.3.2. Happiness is the feeling of contributing to community or others
2.2. Life lie
2.2.1. The greatest life lie of all is to not live in the here and now
2.3. Telliology
2.4. Who's task is it?
2.5. Horizontal Relationships
2.5.1. Words of gratitude instead of words of thanks
2.6. Courage
2.6.1. Having the courage to be disliked will set you free from others expectations on you, and thus grant you freedom to to live your own life
2.7. Community feeling
2.7.1. A feeling of "I am beneficial to the community" or "I am of use to someone" is the only thing that can give one a true awareness that one has worth
2.8. Comaradeship
2.9. Interpersonal Relationships
2.9.1. If you are living earnestly here and now, you will not be concerned with the future or past
2.9.2. Deny the desire for recognition
2.9.3. All problems are interpersonal relationship problems One must not seek recognition from others Freedom is being disliked by other people Only horizontal relationships are healthy
3. TONY's 6 HUMAN NEEDS
3.1. People will give up there hopes and dreams to fill their needs
3.2. 3 needs met is a powerful habit, positive or negative
3.3. Certainty, uncertainty, love/connection, significance
3.4. Growth, Contribution
3.5. People will keep a problem because it meets their needs. Ediology. It's because I've got this that I can't do that.
4. MASLOW
5. SIMON SINEK
5.1. The Golden Circle
5.1.1. Start with Why, go to How and end with What
5.2. Why leaders eat last
6. NO FUCKS GIVEN GUIDES
6.1. Fuck Budget
6.2. Not Sorry
6.3. Mental Decluttering
6.4. What/Why method
6.5. Get your shit together
6.6. You do You
6.7. Emotional puppy crating
7. TALES FROM OLYMPIAN GODS
8. NATURAL CONNECTIONS
8.1. Self
8.2. Others
8.3. Environment
9. THE POWER OF SLEEP
9.1. Memory
9.2. Emotional processing
9.3. Rest and recovery
10. SYMPATHETIC DOMINANCE
11. LOST CONNECTIONS
11.1. Tribal creatures of up to 150
11.2. Connection gives purpose
11.3. Reducing the fear anxiety response
12. Johan Hari
12.1. Lost Connection
12.2. Stolen Focus
13. The Kingdom of God
13.1. FLOURISH
13.1.1. 1. Vision
13.1.2. 2. Culture
13.1.2.1. Desirable Attributes
13.1.2.1.1. Agency / Empowerment
13.1.2.1.2. Recognition / Value
13.1.2.1.3. 1% actions everyday that add to 1million actions
13.1.2.1.4. Strength based roles
13.1.2.1.5. Supported Diversity
13.1.2.1.6. Unconditional Love
13.1.2.1.7. Respect to higher purpose
13.1.3. 3. Faith
13.1.4. 4. Practice
13.2. STEWARDSHIP
13.3. HILLCREST CRISTIAN COLLEGE
13.3.1. Wicked Problem or Harmonious Problem
13.3.1.1. Connection before content - Mark Collard
13.3.1.2. Wont be solved, but you can work for harmony
13.3.2. Courageous Conversations
13.3.2.1. Childsafe... How do we ensure we are not groomed? (tricked, deceived)
13.3.2.1.1. Place the topic into conversation everyday and everywhere
13.4. FREEDOM
14. Culture and Identity Story (Australia Together)
14.1. People - Who are the most important people in your life? Who would you make a major sacrifice for?
14.1.1. Amanda my wife and anchor
14.1.2. Students and learners
14.1.3. Pets in my care
14.1.4. Surf rescue
14.2. Place - Where do you feel you most belong or feel connected?
14.2.1. Sitting out the back of the break at Cape Paterson first surf
14.2.2. When I can hear/smell/sea nature
14.2.3. In Dad's family workshop(s)
14.2.4. At Hillcrest
14.2.5. Visiting and revisiting past experiencing and memories, vibes, videos,
14.3. Values - What are the most important values to you and your family that influence what your do, how you do it, or how you behave/show respect?
14.3.1. Passion, compassion, respect
14.3.2. Recognition
14.3.3. 6 human needs
14.3.4. Stewardship
14.3.5. Unconditional Love
14.4. Customs - What activities / celebrations are special and unique to you, your family or friends? (Traditions and things you've created)
14.4.1. Birthdays
14.4.2. Little wins
14.4.3. Gigs/Bands
14.4.4. Yearly Hikes
14.4.5. Bright Holidays
14.4.6. Christmas Eve Shananigans
14.5. Language - What terms or names only mean something to you and those within your groups?
14.5.1. Seagulls
14.5.2. Rescue Ready
14.5.3. Roger
14.5.4. Shark Smiles
14.5.5. Rodneyfoon
15. CAPITAL
15.1. Is any asset that generates and increases value of relationship, product or transaction
15.1.1. Constructed
15.1.1.1. Financial
15.1.1.2. Economic
15.1.2. Natural
15.1.3. Cultural
15.1.3.1. Human
15.1.3.2. Social
15.1.3.3. Intellectual
15.1.4. Experiential
16. TEACHING and EDUCATION
16.1. PEDAGOGY TASK PRESENTATION AND STRUCTURE
16.1.1. According to Breed and Spittle (2011), three domains exist for teachers to consider when engaging with a constraints-based approach to teaching:
16.1.1.1. Task: What is involved in the successful completion of the task or activity? (rules, equipment, fundamental and sport specific movements, movement concepts, player numbers).
16.1.1.2. Performer: What attributes do the students bring to the class? (skill level, fitness level, height, weight, muscle type, concentration, confidence).
16.1.1.3. Environment: Includes the physical and social factors such as space, indoor/ outdoor, temperature, cultural expectations, peer groups.
16.1.2. TASK: Understanding content (either as a student or teacher of the activity) should enable you to sequence your tasks i.) with more logical progression and ii.) more evenly.
16.1.3. CUES: One cue at a time
16.1.4. CHALLENGES: we need to find ways to allow for students' interest to develop as they are practicing and learning. This process is called challenges, or as others have termed it applications. Good teachers will place these challenges in context (so they are concretely not abstractly taught). This may involve performing a small game or task so the expected movement task is completed in an environment mimics the sport or game. Other challenges include providing students with self-tests to meet a standard or a goal or by adding a complexity layer such as performing against a clock, e.g. when students are skipping you may ask them to continually skip for 10 secs, 15 secs or 60 secs.
17. PE TOOLBOX
17.1. WALK AND TALK - before the lesson starts to get the gossip out
17.1.1. we'd walk a lap of our oval on the way in to the gym so the students could catch up and spill all the news prior to getting to the gym. They would actually ask to do it when I'd arrive to their classroom)
17.2. USE THE ROLL TO YOUR BENEFIT - as you go through the roll, make it interactive.
17.2.1. When I say your name, tell me your favourite Sport/Colour/Animal/Ice cream flavour/Season/Sports team/Music/Hobby/Game/Subject, etc. I love doing this, but had to draw the line at 'tell us your favourite joke', we lost half a lesson.
17.3. TEACHING CUES
17.3.1. Teaching cues must be short, sharp and catchy so that students can easily remember them. Cues are words that are best articulated in 'student speak' and support memory retention of a skill or instruction e.g. "Eyes on the prize" for eyes focused on the direction of throwing.
17.4. VISUAL DISPLAY WITH LI AND SC