The Universe of Thoughts
by Nicholas Foon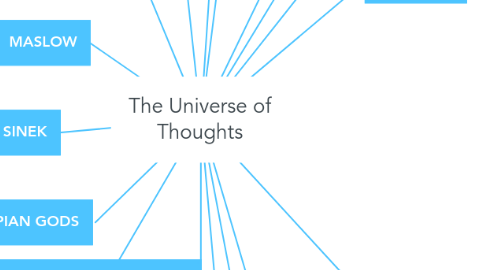 1. THE RESILIENCE PROJECT
1.1. Gratitude
1.2. Empathy
1.2.1. The power to show vulnerability
1.3. Mindfulness
1.3.1. To centre yourself and live in the present
1.4. Resilience through connections
1.5. Disconnect from your device
2. ADLERIAN THEORY (the courage to be disliked)
2.1. Life tasks
2.1.1. Self Acceptance
2.1.1.1. You are the only one who can change yourself Self-acceptance is focusing on what one can change rather than on what one cannot
2.1.1.2. "God, grant me the serenity to accept the things I cannot change, courage to change the things I can, and wisdom to know the difference" Serenity Prayer
2.1.2. Confidence in Othets
2.1.2.1. Confidence is a soul belief in others, trust is a contract.
2.1.3. Contribution to others
2.1.3.1. Happiness comes from contribution to others This is the guiding star, even if others dislike you
2.1.3.2. Happiness is the feeling of contributing to community or others
2.2. Life lie
2.2.1. The greatest life lie of all is to not live in the here and now
2.3. Telliology
2.4. Who's task is it?
2.5. Horizontal Relationships
2.5.1. Words of gratitude instead of words of thanks
2.6. Courage
2.6.1. Having the courage to be disliked will set you free from others expectations on you, and thus grant you freedom to to live your own life
2.7. Community feeling
2.7.1. A feeling of "I am beneficial to the community" or "I am of use to someone" is the only thing that can give one a true awareness that one has worth
2.8. Comaradeship
2.9. Interpersonal Relationships
2.9.1. If you are living earnestly here and now, you will not be concerned with the future or past
2.9.2. Deny the desire for recognition
2.9.3. All problems are interpersonal relationship problems One must not seek recognition from others Freedom is being disliked by other people Only horizontal relationships are healthy
3. TONY's 6 HUMAN NEEDS
3.1. People will give up there hopes and dreams to fill their needs
3.2. 3 needs met is a powerful habit, positive or negative
3.3. Certainty, uncertainty, love/connection, significance
3.4. Growth, Contribution
3.5. People will keep a problem because it meets their needs. Ediology. It's because I've got this that I can't do that.
4. MASLOW
5. SIMON SINEK
5.1. The Golden Circle
5.1.1. Start with Why, go to How and end with What
5.2. Why leaders eat last
6. NO FUCKS GIVEN GUIDES
6.1. Fuck Budget
6.2. Not Sorry
6.3. Mental Decluttering
6.4. What/Why method
6.5. Get your shit together
6.6. You do You
6.7. Emotional puppy crating
7. TALES FROM OLYMPIAN GODS
8. NATURAL CONNECTIONS
8.1. Self
8.2. Others
8.3. Environment
9. THE POWER OF SLEEP
9.1. Memory
9.2. Emotional processing
9.3. Rest and recovery
10. SYMPATHETIC DOMINANCE
11. LOST CONNECTIONS
11.1. Tribal creatures of up to 150
11.2. Connection gives purpose
11.3. Reducing the fear anxiety response