Desktop Operation System
by lovelyn omari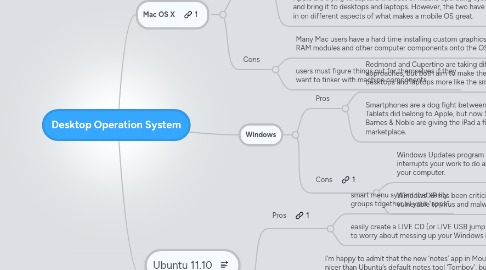 1. Ubuntu 11.10
1.1. Pros
1.1.1. smart menu system that easily groups together all your "apps"
1.1.2. easily create a LIVE CD (or LIVE USB jump drive) and won't have to worry about messing up your Windows install.
1.2. Cons
1.2.1. I'm happy to admit that the new 'notes' app in Mountain Lion looks a little nicer than Ubuntu's default notes tool 'Tomboy', but it's the cloud-syncing feature I'm highlighting here. Tomboy has, and has had, Ubuntu One sync support for a while, a feature that I, like many Ubuntu users, rely on regularly.
1.2.2. Software updates integrated into the App Store – that's on the roadmap for the Ubuntu Software Center, too.
2. Windows
2.1. Pros
2.1.1. Redmond and Cupertino are taking different approaches, but both aim to make their desktops and laptops more like the smartphone.
2.1.2. Smartphones are a dog fight between Android and iOS. Tablets did belong to Apple, but now Samsung, Amazon and Barnes & Noble are giving the iPad a fight for the tablet marketplace.
2.2. Cons
2.2.1. Windows Updates program that comes with Windows XP constantly interrupts your work to do an update, which requires that you restart your computer.
2.2.2. Windows XP has been criticized in the past for being more vulnerable to virus and malware attacks
3. Mac OS X
3.1. Pros
3.1.1. Speaking on its earnings conference call, Apple said it will launch the next version of Mac OS X on Wednesday
3.1.2. With their next computer operating systems, both Microsoft and Apple are trying to capture the best of mobile operating systems and bring it to desktops and laptops. However, the two have honed in on different aspects of what makes a mobile OS great.
3.2. Cons
3.2.1. Many Mac users have a hard time installing custom graphics cards, RAM modules and other computer components onto the OS X platform.
3.2.2. users must figure things out for themselves if they want to tinker with machine components.