Technology Conferences
by sandra markus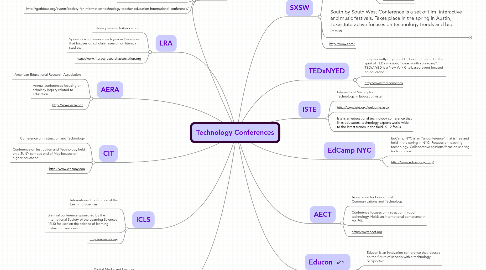 1. ISTE
1.1. International Society for Technology in Education (iste)
1.2. http://www.iste.org/welcome.aspx
1.3. Iste is an educational technology conference that links educators, technology experts world-wide to the latest trends in the field. K-12 focus
2. EdCamp NYC
2.1. EdCamp NYC is an "unconference" that is free and held in the spring in NYC. Focuses on teaching technology. Collaborative sessions focus on sharing tools or ideas.
2.2. http://www.edcampnyc.org/
3. Educon
3.1. Educon is an innovation conference that focuses on the future of schools with a technology perspective.
3.2. http://educon24.org/
4. CIT
4.1. Conference on Instruction and Technology
4.2. Conference on Instruction and Technology held on a SUNY campus end of May focuses on higher education
4.3. http://www.cit.suny.edu
5. DML
5.1. Digital Media and Learning
5.2. Annual conference supported by the MacArthur Foundation and organized by the Digital Media and Learning Research Hub at U-C Irvine.
5.3. http://dml2012.dmlcentral.net/
6. TEDxNYED
6.1. Independantly organized TED event. Created in the spirit of TED's mission, "ideas worth spreading". TEDxNYED is a New York City-based event focused on education.
6.2. http://www.ted.com/tedx
7. AECT
7.1. Association for Educational Communications and Technology
7.2. Conference focuses on instruction through technology. Holds an international conference in the fall.
7.3. http://www.aect.org
8. ICLS
8.1. International Conference of the Learning Sciences
8.2. Biennial conference sponsored by the International Society of the Learning Sciences (ISLS) focuses on the science of learning, instruction and design.
8.3. http://www.isls.org
9. AERA
9.1. American Educational Research Association
9.2. Annual conferences focusing on scholarly inquiry related to education.
9.3. http://www.aera.net
10. LRA
10.1. Literacy Research Association
10.2. Sponsors a conference each year in December that focuses on scholary research on literacy studies.
10.3. http://www.literacyresearchassociation.org
11. SITTE
11.1. Society for Information Technology and Teacher
11.2. Education conference focuses on all topics related to the use information technology in teacher education.
11.3. http://getideas.org/events/society-for-information-technology-teacher-education-international-conference/
12. SXSW
12.1. SXSWedu
12.1.1. New conference (2011, 2012) focusing on innovation and best practices in education.
12.1.2. http://sxswedu.com/
12.2. South by South West Conference is a set of film, interactive and music festivals. Takes place in the spring in Austin, Texas.Interactive focuses on technology trends and big ideas.
12.2.1. New node
12.3. http://sxsw.com/