Desktop Operating Systems
by Ivonne Martinez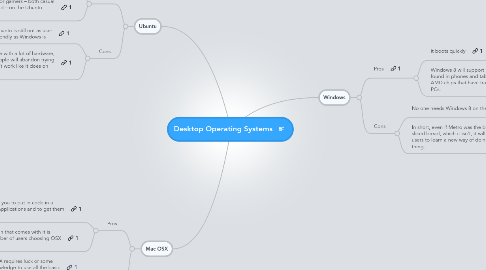 1. Windows
1.1. Pros
1.1.1. it boots quickly
1.1.2. Windows 8 will support the power-savvy ARM chips found in phones and tablets, in addition to the Intel and AMD chips that have traditionally powered Windows PCs.
1.2. Cons
1.2.1. No one needs Windows 8 on the desktop
1.2.2. In short, even if Metro was the best thing since sliced bread, which it isn't, it will still require users to learn a new way of doing the same old thing.
2. Ubuntu
2.1. Pros
2.1.1. Ubuntu is Free & Open Source
2.1.2. A social hub for gamers – both casual and committed – on the Ubuntu desktop.
2.2. Cons
2.2.1. Ubuntu is still not as user friendly as Windows is
2.2.2. Ubuntu is still not 100% compatible with a lot of hardware, which is often the reason many people will abandon trying Ubuntu because something doesn't work like it does on Windows.
3. Mac OSX
3.1. Pros
3.1.1. OS X does not require you to put in code in a terminal to get some applications and to get them working.
3.1.2. virus-free reputation that comes with it is translated the number of users choosing OSX over Windows.
3.2. Cons
3.2.1. OS X requires luck or some knowledge to use all the basic features.
3.2.2. OS X is limited on what it can do