Do you agree that city life is becoming increasingly unattractive?
by Jiarui Lee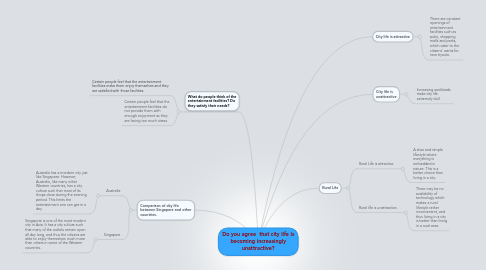 1. Comparison of city life between Singapore and other countries.
1.1. Australia
1.1.1. Australia has a mordern city just like Singapore. However, Australia, like many other Western countries, has a city culture such that most of its shops close during the evening period. This limits the entertainment one can get in a day.
1.2. Singapore
1.2.1. Singapore is one of the most modern city in Asia. It has a city culture such that many of the outlets remain open all day long, and thus the citizens are able to enjoy themselves much more than others in some of the Western countries.
2. City life is unattractive
2.1. Increasing workloads make city life extremely dull.
3. What do people think of the entertainment facilities? Do they satisfy their needs?
3.1. Certain people feel that the entertainment facilities make them enjoy themselves and they are satisfied with those facilities.
3.2. Certain people feel that the entertainment facilities do not provide them with enough enjoyment as they are facing too much stress.
4. City life is attractive
4.1. There are constant openings of entertainment facilities such as pubs, shopping malls and parks, which cater to the citizens' wants for new tryouts.
5. Rural Life
5.1. Rural Life is attractive.
5.1.1. A slow and simple lifestyle where everything is embedded in nature. This is a better choice than living in a city.
5.2. Rural life is unattractive.
5.2.1. There may be no availability of technology which makes a rural lifestyle rather inconvenient, and thus living in a city is better than living in a rural area.