Do you agree that city life is becoming increasingly unattractive?
by Xueyi Goh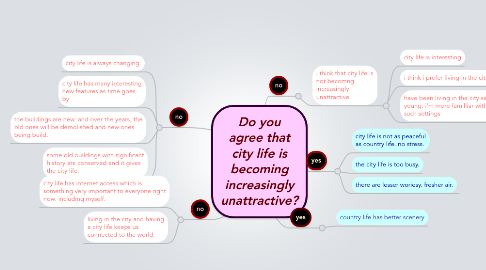 1. no
1.1. city life is always changing.
1.2. city life has many interesting new features as time goes by
1.3. the buildings are new, and over the years, the old ones will be demolished and new ones being build.
1.4. some old buildings with significant history are conserved and it gives the city life.
2. no
2.1. city life has internet access which is something very important to everyone right now. including myself.
2.2. living in the city and having a city life keeps us connected to the world.
3. no
3.1. i think that city life is not becomng increasingly unattractive.
3.1.1. city life is interesting
3.1.2. i think i prefer living in the city life
3.1.3. have been living in the city since young. i'm more familliar with such settings
4. yes
4.1. city life is not as peaceful as country life. no stress.
4.2. the city life is too busy.
4.3. there are lesser woriesy. fresher air.
5. yes
5.1. country life has better scenery