As long as people in the public eye do their job well, does it matter what they do in private?
by Teo Hui Qin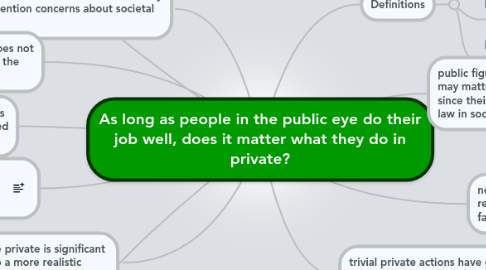 1. Definitions
1.1. Do their job well
1.2. Do in private
1.2.1. break the law, offend moral standards, call into question the person's intergrity
1.3. People in the public eye
2. news and entertainment industry revolves around the private lives of famous people
3. public figures often find that their private actions may matter more than those of ordinary people since their cases become a measure of the rule of law in society
4. trivial private actions have greater consequences under the amplifying glare of media scrutiny
4.1. influence the perception of people in the public eye regardless of their job performance
5. very little stays private in today's media-saturated, internet connected world
5.1. easier to feed our interest
6. private actions matter more because they call to attention concerns about societal trends
7. social networking websites and entertainment news websites broadcasting news worldwide in a matter of seconds
7.1. increasingly shaped by their private actions
8. Photographs of Zhang Ziyi in a red bikini shocked her conservative fans and sparked a debate about China's moral values
9. examination of the private is significant because it leads to a more realistic understanding of celebrities and society
10. good performance at work does not exempt anyone from obeying the laws
11. how these people will influence society
11.1. http://libby-wilson.suite101.com/celebrity-role-model-a185493
11.2. Bandura's Social Learning Theory
11.2.1. People learn through observing others' behavior, attitudes, and outcomes of those behaviors.