Review of the State of the Art : Youth at risk of social exclusion - ICT
by
alexandra haché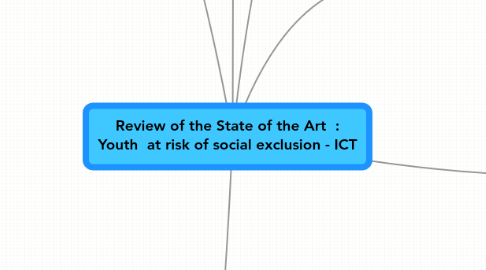 0.0
stars -
0
reviews range from
0
to
5
Review of the State of the Art : Youth at risk of social exclusion - ICT
Economic participation
2003, Youth unemployment and social exclusion in Europe
YES offers SME support opportunities for the employment and introduction of those young persons. YES is a European project including 8 partner institutions specialised in adult education. The project running from November 2007 - October 2009 is financed by the European Commission's Lifelong Learning Programme. It builds on and combines the results of the preceding projects EuroJobMediator and ADEC - Adult Educator in Company, which both developed useful resources for actors in the youth employment process. YES addresses recruiters selecting job applicants and introduce them into their company as well as mentors, in-company trainers of apprentices, instructors and other senior members of staff who supervise young people at work in SME.
Adressing youth as actor of social change on the one hand implies to analyse under what conditions young people can be included in and exert full citizenship status. On the other hand, it means discarding a perspective according to which young people are merely affected by social change in a passive way but tries to identify to what extent they play an active role in these processes by reinforcing or modifying structures through individual coping strategies and life styles.    
The YUSEDER research project tries to answer some crucial questions with regard to the risk of social exclusion associated with long-term youth unemployment. The first research question asks for key mechanisms linking the experience of long-term youth unemployment to various dimensions of social disintegration, conceived of in the theoretical framework of social exclusion. In this context, not only the mechanisms exacerbating the stress of unemployment (vulnerability factors) but also the protective mechanisms preventing or reducing the risk of social exclusion have to be taken into consideration. The second research question relates to new options of institutional and political intervention and counteraction in different national contexts.
Social inclusion / Civic engagement / Active citizenship
UK
European
Access to education, formation, training and life long learning
European
UK
European Comission
Policy
Coordination/Consultation
Researches developing a socioeconomic impact assesment
DG INFSO
DG EAC
UK
Youth In Action Policy
Publications / int. researches / available data
UK
Sweeden
Spain
Germany
US
World
Data/stats/survey