TER project: Conflict and School
by villaret camille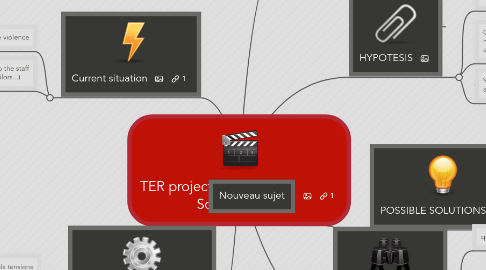 1. Lost of trust on the Institution
1.1. Pessimism of teachers
2. POSSIBLE SOLUTIONS
2.1. Create dialogue
2.1.1. ART
2.1.1.1. THEATRE
2.1.1.1.1. FORUM-THEATRE
3. Plan
3.1. Goals
3.1.1. Speak about a current event in our society
3.1.2. Present and study an artistic metod which starts to enter in Education and Conflict Regulation.
3.2. Define the Conflict
3.3. Conflict at School
3.4. Mediation Metod
3.5. FORUM-THEATRE
4. HYPOTESIS
4.1. School is a place to learn the collectivity-life.
4.1.1. In spite of the goals of National Education, there is not a lot of place in the curriculum to speak about violence and conflict.
4.1.1.1. In sp
4.2. Conflict is part of the Life, and must be approached and assumed by School.
4.2.1. Gap in the initiale formation of the teacher's formation in Conflict Regulation.
4.3. Young people is not more violent as 30 years before
5. Study of ground
5.1. questionnaries
5.1.1. Soundings
5.1.2. Comparasion France/Abroad
5.2. Interviews
5.2.1. Artists, teachers, students, Formators, educationalists...
5.3. Theatre workshop
5.3.1. children of 10-11 years old
6. CONSEQUENCES
6.1. Creation of generals tensions at School
6.1.1. Generally accepted ideas on Education Word
7. Current situation
7.1. Mediatization of young people violence
7.2. Mediatization of depresion to the staff educated (teachers, CPE, vigilors...)
7.2.1. Suicide of teachers, accident in High school...
8. Nouveau sujet