Агрессия
by
Александра Очирова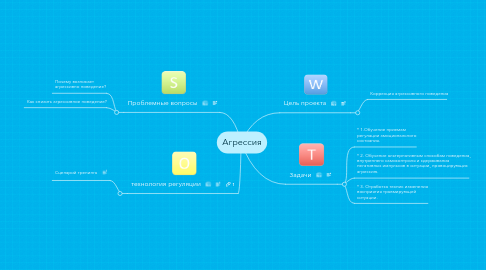 0.0
stars -
0
reviews range from
0
to
5
Проблемные вопросы
patents strong brand names good reputation among customers cost advantages from proprietary know-how exclusive access to high grade natural resources favorable access to distribution networks  
Почему возникает агрессивно поведение?
Как снизить агрессивное поведение?
Задачи
shifts in consumer tastes away from the firm's products emergence of substitute products new regulations increased trade barriers
* 1.Обучение приемам регуляции эмоционального состояния.
* 2. Обучение альтернативным способам поведения, внутреннего самоконтроля и сдерживания негативных импульсов в ситуации, провоцирующих агрессию.
* 3. Отработка техник изменения восприятия травмирующей ситуации.
Цель проекта
lack of patent protection a weak brand name poor reputation among customers high cost structure lack of access to the best natural resources lack of access to key distribution channels
Коррекция агрессивного поведения
an unfulfilled customer need arrival of new technologies loosening of regulations removal of international trade barriers
Сценарий тренинга