Browser Wars
by Sjanee Estes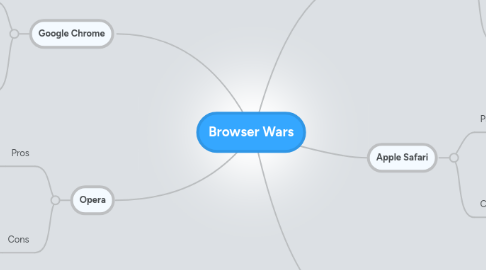 1. Internet Explorer
1.1. Pros
1.1.1. The Visual appeal of the browser, it is very soothing to our eyes and looks smart
1.1.2. New ActiveX integration with desktop version of Internet Explorer 10.
1.2. Cons
1.2.1. It does not allow you to use a single Metro design browser for some links
1.2.2. Flash is not supported by the Metro UI Internet Explorer, Which is totally painful
2. Apple Safari
2.1. Pros
2.1.1. It isn't hard to figure out where the links and buttons are, which is important.
2.1.2. Faster page load times and vastly improved HTML5 support.
2.2. Cons
2.2.1. Not many plugins available
2.2.2. No way to change the font in Reader
3. Mozilla Firefox
3.1. Pros
3.1.1. Does everything I need it to
3.1.2. Nearly infinite Add Ons, tuning and customizing capabilities.
3.2. Cons
3.2.1. I like the classic firefox look better than the newer one
3.2.2. New nodeFirefox has some problem that causes it to become non-responsive
4. Google Chrome
4.1. Pros
4.1.1. Chrome is fast, safe, efficient, simple to use, easy to configure, full of stuff for personalizing it
4.1.2. We can add apps in one click..!! it's amazing!
4.2. Cons
4.2.1. I can not attach a file to an email.
4.2.2. Still requires a third-party extension to keep the "Awesome New Tab Page" from loading
5. Opera
5.1. Pros
5.1.1. Easy account set up
5.1.2. Sign up for free email and file hosting
5.2. Cons
5.2.1. You can't paste into dialog boxes (ex: filename or folder name) a word(s) you copied from a webpage you visited
5.2.2. It lacks the massive developer's community of Mozilla's Firefox