REGLAMENTO UPTC
by
william barbosa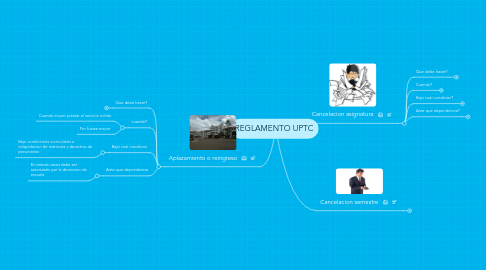 0.0
stars -
0
reviews range from
0
to
5
Cancelacion semestre
shifts in consumer tastes away from the firm's products emergence of substitute products new regulations increased trade barriers
Que debo hacer?
Pasar un solicitud por escrito
Cuando?
Hasta la semna 8,o con un promedio de 3,5 o por fuerza mayor antes de la semana 16
Bajo cual condicion
Entregar solicitud de cancelacion de semestre, carnet estudiantil y paz y salvo de la universidad
Cancelacion asignatura
lack of patent protection a weak brand name poor reputation among customers high cost structure lack of access to the best natural resources lack of access to key distribution channels
Que debe hacer?
Realizar una solicitud por escrito
Cuando?
Antes de la semana 2
Bajo cual condicion?
Parcialmente y maximo por 3 semestres
Ante que dependencia?
Dirreccion de escuela
Aplazamiento o reingreso
an unfulfilled customer need arrival of new technologies loosening of regulations removal of international trade barriers
Que debe hacer?
Una vez el etudiante formule la solicitud de cancelacion o reingreso y cumpla con las fechas y requisitos establecidos en el reglamento
cuando?
Cuando es por prestar el servicio militar
Por fuerza mayor
Bajo cual condicion
Bajo condiciones curriculares a reliquidacion de matricula y derechos de pecuniarios
Ante que dependencia
En ambos casos debe ser autorizado por la dirreccion de escuela