CLAUSES OF MANNER
by elizabeth perez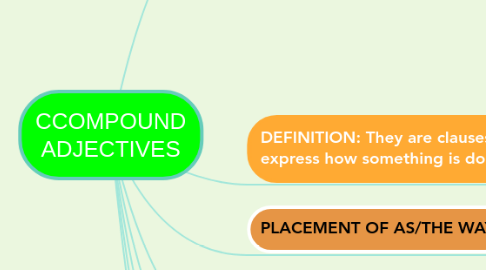 1. DEFINITION: They are clauses use for express how something is done or feelings.
2. PLACEMENT OF AS/THE WAY
3. CAN YOU DEFINE A CLAUSE OF MANNER?
3.1. WHEN DO WE USE THE WORD "LIKE"?
3.1.1. I should use the word "Like" when we are talking with an informal english.
3.2. THE WORD "LIKE" IS USED TO REPLACE........ .
3.2.1. I USE LIKE TO REPLACE AS IF/ AS TRHOUGH AND AS / THE WAY
3.2.2. As if, as though, as, the way CAN be replace by LIKE
3.2.3. We can replace "As if", "as though", "as", "the way" with the word "like.
3.3. PLACEMENT OF AS IF/ AS THOUGH
3.3.1. THEY ARE INTERCHANGEABLE
3.3.2. After the verbs like feel, look, seem, act, behave, talk
3.3.3. "As if" and "As though" are usually used after the verbs feel, seem, act, behave, talk or any other verb that express feelings or human behavior.
4. DEFINITION: I USE THIS CLAUSES TO DESCRIBE IMPRESSIONS ABOUT FEELINGS
5. Definition: Clauses of manner are a group of adverbs that present how something happens.
6. AS IF/AS THOUGH