prime minister. He chooses the heads of departments for their experice heover looks all of the departments.
by Billielea shaw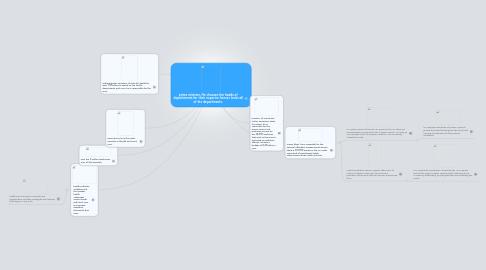 1. crispin blunt. he is resonsible for the national offenders managesment service. there is 260,000 people in the UK under some kind of punishment/rehab. asbos/prison/drugs rehab and tags.
1.1. HM prisom service. there are 137 prisons in the UK. there are 86.000people in prisons but only 4.300are women. UK locks up more people out of all euopean countries not neccesarily lowest/crime rate.
1.1.1. her majestys insectorate of prisons. inspects prisons to prevent bullying/suicides to up hold humane punishment plus they enforce rehabiliton.
1.2. national probation service. support after prison to make sure that you stay out of prison/crime. probation officers work with ex-criminals to supervise them.
1.2.1. HM insectorate of probation. funded by the MOJ reports back to the justice minster. inspects youth offending terms in reducing reoffending. by doing this they are protecting the public.
2. health authority yorkshire and the humber. health authorities council works with local NHS to prioritise spending tailored to that area.
2.1. healthcare commission. inspects NHS organisations and they investigate ant misharps that happen in any NHS.
3. NHS has 2 million employees over all the hospitals
4. simon burns he is the under secretary of health and social care.
5. ministry of justice ken clarke. secreatary state for justice. he is reponsible for the prison service and probation service he has 69,000 emplyees that work in the prisons and work as probation officers. he gets a budget of 9.46 billion a year.
6. andrew lansley secretary of state for health he gets 1.05 billion to spend on the health departments each year. he is responsible for the NHS.