Reflections on Literacy in the Information Age Amber Gibson agibson@scsk12.org IDT 7064/8064 Feb. 19, 2009
by
Amber Gibson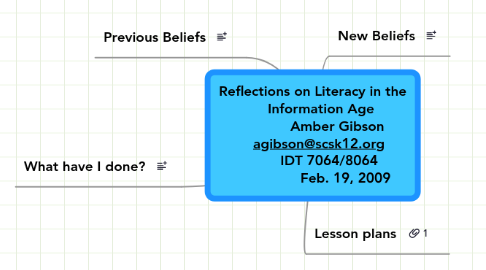 0.0
stars -
0
reviews range from
0
to
5
Reflections on Literacy in the Information Age Amber Gibson agibson@scsk12.org IDT 7064/8064 Feb. 19, 2009
Previous Beliefs
I have always been open to new methods of finding and researching information, but my own "comfort zone" was strongly connected with either print resources or search engines.  I was one of the teachers who believed that students needed to know how to get around in the resources of the past before they could know what to do with the vast variety of media of today.  The teaching of media literacy is a complex topic at best.  According to P. Mihailidis (2008, Nov. 8) "Media literacy is about understanding media's vast and complex roles and responsibilities in society. It is about having an awareness of how media influence politics and culture. In this way, media literacy is about a shift in learning from specific media practices to media outcomes."  Because of this shift, veteran teachers have much to learn.   Source:  Milhailidis, P. (2008, Nov. 8), Can there be global media literacy?  Retrieved on Feb. 18, 2009 from http://www.aocmedialiteracy.org/index.php?Itemid=31&id=64&option=com_content&task=view&lang=arabic.
New Beliefs
     As difficult as it is for teachers to change, we need to realize that students can learn and find viable information without ever using a print resource.  Classroom teachers also must change the role they have when teaching.  Teachers are in an influx from being the givers of information to being more of a guide.  Teachers will need to create more situations where students use creative thinking and evaluating skills to learn how to deal with information and how to learn from it. 
What have I done?
I am very excited that my professor is encouraging us to use new technologies that I would not have even known existed, such as this concept mapping website.  I am planning on incorporating it as I can in my classes at school.  Currently I would guess that while I do use technology, I am behind in the newest methods.  I use podcasting, powerpoint, blogs, webquests, and search engines.  I work in the middle school level, so the students and are learning together.
Lesson plans