Information Streams
by
Virtually Scholastic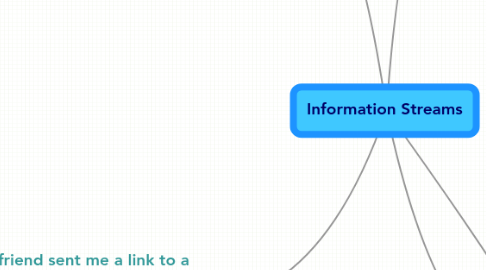 5.0
stars -
1
reviews range from
0
to
5
Information Streams
I had to start doing some research for an upcoming project, so I...
Accessed my course homepage and re-read the portion of the assignment guide describing this project to make sure I understood my objectives, and I also...
Signed on to FirstClass and went to the project discussion area to see if anyone else had posted any new questions or comments about the project, or whether the tutor had left some new information for us regarding the first assignment. Since there were no new messages, I logged off and went to the next step of accessing the university library...
Logged on to my university's digital library and searched for papers that discussed the use of blogs in higher education. From the results...
There are many useful databases that afford access to a great many sources of reputable research. Some of these are: ERIC [ http://www.eric.ed.gov/ERICWebPortal/Home.portal?_nfpb=true&_pageLabel=advanced ] ISI Web of Knowledge [ http://www.isiwebofknowledge.com/ ] SwetsWise [ https://www.swetswise.com/public/login.do ] PsycINFO [ http://www.apa.org/psycinfo/ ] ScienceDirect [ http://www.sciencedirect.com/ ]  
I read one paper which then led me to..., Read a second paper that was referenced in the first paper, and..., Then I did a Google search for a term that was mentioned a few times in the second paper, which brought me to..., A social bookmarking site where that term was tagged (linked) to 503 other resources that addressed the topic, and from those..., I found a blog entry in which the author shared a bibliography of research papers, conference proceedings and websites that all related to the research I decided on which to focus for my project, so I decided to..., Add this bibliography to one of my Zotero research libraries and refer back to it the next time I come back to working on my upcoming project. In order to remember the outcome of this research path, I also..., Added a note to my 'To Do List' in iCal in which I specified the date on which I would like to return to this work, tagged this note so that I know it relates to this particular course I'm studying, and made a brief note about the resources I'd like to look at next., Subscribe to this blog because I noticed that the author shared some of my research interests and wanted be notified of upcoming entries., I recognised the name of a person with whom I took a course with last year, so I looked up her email address in Thunderbird and wrote her a few words to say hello. I also..., Went on LinkedIn and searched for her on the network. She came up in my search results, so I scanned her bio to make sure it was her, and then..., I sent her an automatic request to join my professional network., I also noticed that she posted a link to her blog in her profile, so I clicked on it, read some of her posts, commented on one, and subscribed decided to subscribe to her blog as well., I also drafted a list of 4 other papers that I wanted to review during my next research session and added a note to my 'To Do List' in iCal in which I specified the date on which I would like to return to this work, and tagged this note so that I know it relates to this particular course I'm studying., Visit a website that was mentioned in the first paper, and I found..., That I had discovered an interest in the research that this organisation published on its website, so I subscribed to their monthly newsletter. Then I realised that I had already subscribed to a few other newletters of a similar nature and thought it would be a good idea to organise them in my inbox, so I..., Created a subfolder called 'eJournals & Newletters' and established rules that would automatically tag all of these subscriptions upon receipt and transfer them into this new subfolder.
Remembered that I skimmed over an article a couple of weeks ago from an eJournal to which I subscribe that talked about a case study on the use of blogs, so I looked through my archived messages in Thunderbird, found the link to the article and went directly to its webpage, where I...
Started reading the abstract more closely and then noticed that there was also a webcast of an interview with the authors of the paper available on the eJournal's website, so I..., Opened a new tab for the webcast link and watched the 25 minute discussion that elaborated on the outcomes of the case study research., Left the tab with the article open to read later.
I wanted to catch up on some blog reading, so I...
Opened up Thunderbird where I have all my RSS feeds aggregated in the same place that I regularly check my email. I saw that there were only three unread entries from one of my subscriptions, and since that's less daunting then pushing through 103 entries from another subscription and also more satisfying knowing that I'll have accomplished something in one go, I...
Clicked on the first two entries and read them directly from within Thunderbird. They only appear as plain text versions of the original entries, but since I wasn't too interested in exploring them further, I just skimmed them and then delete them on the spot. The third entry was actually right up my alley, so I..., Clicked on the link that brought me directly to the original post. I started reading through the comments and noticed that one commenter shared my views quite closely, so I..., Click on this person's name which brought me to her blog where I began to read her 'About' page and scanned a couple of her more recent entries as well as her list of categories. I left a comment on her blog (making sure that I subscribe to the comment feed on her blog as well as to her entries feed so that I would be notified the next time someone posts a new comment) and linked to a website that someone else talked about in his comment, which then led me to..., Discovered a new web-based tool called mindmeister that changed the way I present and share information with others., Logged on to FirstClass (where I engage in asynchronous online discussion with my fellow distance learning classmates and tutors) and posted a message in the 'Cafe' thread sharing the link to this message as I thought that it could also be of interest to others. I left FirstClass open so that I could receive automatic notifications when people post new messages, and a few minutes later..., Someone posted a reply to my message thanking me for the useful link and also sharing another web resource with the rest of the group that extends further into the topic we were discussing. I clicked on this new link and it led me to..., A blog I haven't visited before and while reading the entry that my classmate mentioned, I discovered three other mind mapping resources that I intend to explore later on, so I..., Opened three new tabs to remind myself to explore these tools in greater detail later on., Our tutor also joined in on the discussion and suggested that since there is so much interest in this topic, that it might be a good idea for us to start a group wiki and build a collection of other similar resources to which all of us could have easy access, so..., A colleague started us off by creating a main page, and those of us with interesting links added them to this working space.
I logged into Facebook to see what my friends have been up to, and I...
Noticed that one of my friends posted a link to a video in her status update recommending that it's definitely worth watching, so I...
Clicked on the link which brought me to a TED Talk. After I watch the video..., I wanted to learn more about the speaker who I found to be very inspirational, so I did a Google search which led me to..., A blog that his wife is writing as a complement to the release of his new book. I saw that many people had already started commenting even though there was only one entry on the blog so far. I realised that I will want to invest some time reading through the entry and the comments, but since my eyes were getting a bit tired from all the reading I'd been doing, I left this tab open to action another day., I found the speaker's bio on the TED website and saw that he had just released a new book, so I..., Eventually bought the book for myself at the same time that I purchased a book for my husband on Amazon.com for Valentine's Day (I got free shipping since the order was above $25!)., I added a comment to my friend's status update letting her know that I really enjoyed her recommendation, which led to..., All of my network (which isn't necessarily a direct overlap of my friend's network) seeing my comment along with the original status update with the link to the video. As a result, two of my friends watched the video too and wrote me later in the day thanking me for letting them know about it., I was so inspired by the presentation that I wrote an entry in my own blog reflecting on it., I sent an email to my parents and a few close friends who aren't active Facebook users and let them know that this amazing video was worth watching., I subscribed to the Ted Video feed so that I would be notified of new videos when they are posted on the site.
A friend sent me a link to a YouTube video, so I...
Clicked on the link and watched it. Although my friend thought it was a funny clip, I didn't find it very interesting. I did, however, notice the link to the YouTube Channels, which led me to...
Search through all the highest rated channels. I randomly clicked on a few of them but didn't find any content that stimulated further exploration, until..., I noticed the 'education' subcategory that includes collection from some well-known institutions. Then I remembered reading somewhere that iTunes U was growing into quite a comprehensive repository of high-quality educational content, so I opened iTunes and..., Started looking through the iTunes U collections. This search led me to a podcast series that I found of interest, so I..., Listened to an episode and liked it. Since it was free, I subscribed to it and will listen to the other episodes when I have some spare time., Posted a link to it on my Facebook profile. A friend of mine eventually wrote me saying that she passed the link along to one of her professors who later ended up using it in one of her classes., Remembered that I had skimmed through a post from a blog to which I subscribe in which the author was wondering who are the users of this type of educational content. He mentioned how he was proud that his institution had gone online, but that he wasn't really clear who the audience was in the first place. I spent a few minutes searching for the entry so that I could re-read it, but I must have deleted it because it was no longer in my archives., I remembered that I had not looked into the new music scene in the last couple of weeks, so I also did a quick search using the iTunes Genius and found a couple of songs that I liked, so I..., Purchased them and made sure to watch the status of the download so that I wouldn't forget that I just added new content to my music selection (which is very possible to do if you suddenly go off on another tangent and forget that you were waiting for the downloads to complete). After the songs became available in my music collection, I..., Added them to their relevant playlists and made sure to add them to a special playlist I keep that reminded me to update my iPod with new tunes. As I thought about my iPod, I..., Remembered that during my last workout, the battery died, so I went to get it and plugged it in overnight so that it would be ready for my next workout tomorrow.
I got my weekly feed with the latest publications from the journal Nature, and I...
Saw an article on research related to what I currently study. The results were unexpected and I wanted to dig further to better understand the basic principle of operation...
The basic principle was a concept I did not fully grasp, so I had to understand it first..., Great, it turns out Wikipedia can give me an excellent explanation of the basic principle, but I need a more rigorous derivation of the equations, A quick search on Google and Google Scholar give me results that are too specific to some experiments, and not the general picture I was seeking, It turns out that Google Books had exactly what I was looking for, now I am starting to understand..., It would be interesting to see if the principle they see in the basic systems can apply to the systems I currently study..., I start with Google Scholar and Web of Knowledge to see if something like that has been studied, but I come up empty handed., I am now trying to see what possible signs to look for in an experiment to see this effect in the systems I study..., That book entry also referred to other ways this effect shows up in different devices, but the equations are modified due to different constraints. It looks like I have more to learn...