Virginia College Tutoring
by
Laura Alfano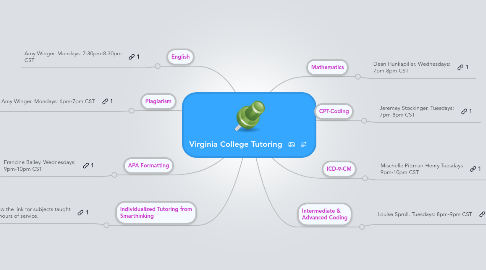 0.0
stars - reviews range from
0
to
5
Virginia College Tutoring
To attend a Winter term group tutoring session, select the subject area then click on the arrow beside the instructor's name and time of the session. Once the session opens, select "Enter as a Guest", enter your full name into the box that appears, and click "Enter Room" to gain entrance to the meeting.
English
Amy Winger. Mondays: 7:30pm-8:30pm CST
CPT-Coding
Jeremey Stockinger. Tuesdays: 7pm-8pm CST
Amy Winger. Mondays: 6pm-7pm CST
ICD-9-CM
Mischelle Pittman-Henry.Tuesdays 9pm-10pm CST
APA Formatting
Francine Bailey. Wednesdays: 9pm-10pm CST
Intermediate & Advanced Coding
Louise Sprull. Tuesdays: 8pm-9pm CST
Mathematics
Dean Hunkapiller. Wednesdays: 7pm-8pm CST
Individualized Tutoring from Smarthinking
Follow the link for subjects taught and hours of service.