Copy of COMM391 Section 921 Phase 2
by Kafui Monu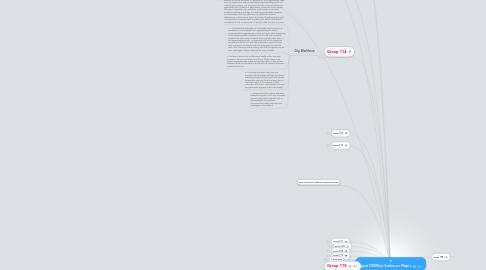 1. 1. Operation
1.1. Operation: most important activity in the value chain [High importance] - organization is currently an issue of MoveIT - finding a new method of scheduling and ensuring efficient delivery - customer's main interaction depends on the operation, thus it is crucial that the operation is running at its best
1.2. Customer service; [medium importance] - moving policies needed to solve problems of damage or complain during and after moving (perhaps paperwork/ agreement)
1.3. Outbound Logistics: [low importance]
1.4. Marketing and Sales [high importance] - big point of differentiation -
1.5. Marketing and Sales [high importance] - big point of differentiation -
1.6. Marketing and Sales [high importance] - big point of differentiation -
1.7. Marketing and Sales [high importance] - big point of differentiation -
1.8. Marketing and Sales [high importance] - big point of differentiation -
1.9. Outbound Logistics: [low importance]
2. Ensuring a "just-in-time" inventory for short shelf-life organic products. This will require much communication with the supplier, potentially through means of technology
3. Most Important: Inbound Logistics (Primary)
4. Group 103
4.1. City Workforce
4.1.1. Most Important
4.1.1.1. Operations: is the most important because it is the company's ability to link the employees with employers. This is essentially our business and therefore is most important on the value chain. Because this is the most important aspect of our company, if we invest time are resources to improve it then we will be able to gain a competitive advantage over our competitors. If we build an effective information system, like COOL, then employees could search the jobs according certain categories: location, time period and so on. Therefore, employers would have a competitive advantage in the market.
4.1.1.2. Inbound logistics: When it comes to services in this job-posting program, it is important for the company to have job posting descriptions and job opportunities coming in. Inbound logistics is definitely the most important for both the employers and employees; otherwise, the company will be out of resources and becomes non-functional. Inbound logistics are not raw materials in this company, but they include the jobs available at certain times and the skills from employees that are suited for the industries. We believe that inbound logistic is basically like a foundation for the company, because the operation and marketing and sales are what come afterwards when the company have enough data and profile for the jobs.
4.1.2. Second Most Important
4.1.2.1. Marketing and Sales: Since City Workforce is a company that helps to connect the employees and the employers, it is also very important for the company to establish a better connection and reputation with both sides. It is because with the lack of either employees or employers, supply chain which is crucial to our business would break down, this is cause either a surplus or a shortage of labour. Therefore, by establishing our reputation of our company as an employment agency with the best operation services, we could ensure a steady stream of labour and company who use the labour with the help of marketing and sales.
5. Choose the most important activity in the value chain for your business. Explain why.
6. Group 102
6.1. Good Food
6.1.1. Most Important: Marketing and Sales
6.1.1.1. Our group thinks that because Good Food is a organic grocery store, it has all the essential equipments required for normal business days sales such as using QR code technology. We think that the most important component of the value chain is the Marketing and Sales because we would like to be able to present Good Foods as a special grocery store, whereas customers simply cannot find another similar store - we are trying to make it special, and by achieving this goal, we need to work with the Marketing and Sales department, because its that department's job to build up the company's image and marketing strategies that makes the company stand out and different from other ordinary organic grocery store, due to the highly competitive nature of the organic industry.
6.1.2. Why we think the others aren't as important:
6.1.2.1. Second Most Important: Inbound Logistics- It is essential for a grocery store to have fresh food in stock; Good Food's target customers are people who try to be healthy, they are not going to buy food that isn't fresh. Operat Outbound Logistics: Customer Service:
6.1.2.2. Firm Infrastructure
6.1.2.3. Human Resource
6.1.2.4. Technology development
6.1.2.5. Procurement of Resources
7. Group 104
7.1. MoveIT
7.1.1. Primary: Operations
7.1.1.1. Because MoveIT is a service company, it does not have any tangible output. Operations is the most important factor in the value chain because the focus of our company is to transport goods from one location to another. There are no raw materials inputted nor finished product outputted but the successful relocation of customers' items is what gives our company its value.
7.1.2. Support: Human Resources
7.1.2.1. We believe that human resources is most important for a moving company because customers want their moving experience to be as easy and stress-free as possible. The company will build customer loyalty and gain recognition if people have an enjoyable experience with the company. MoveIT should have friendly and helpful staff in the office as well as during the moving experience itself. A great company culture that customers appreciate begins with the organizational culture and overall structure of the company.
8. Group 110
8.1. DataMed
8.1.1. Primary Activities
8.1.1.1. Operations
8.1.1.1.1. Since this is a medical clinic, the primary activity should be to provide services to patients. It is important to maintain efficient and high quality operations in order to differentiate our business from potential substitutes and to simultaneously lower costs. With increased efficiency, patients will come in order to take advantage of decreased waiting times. Further, patient's requests can be processed further and the information time lag can be reduced which is one of the primary issues facing clinics today
8.2. New node
9. Group 116
9.1. VanRealty
9.1.1. Most Important: Customer Service
9.1.1.1. There's no question that customer service is the most important aspect of the value chain. All the money for a real estate firm is made by their real estate agents. Sometimes this is from earning a percentage of their profit and other times by the fees their agents pay to stay with the company. Either way, the money is earned by the quantity and sometimes quality of real estate agents.There's no question that customer service is the most important aspect of the value chain. All the money for a real estate firm is made by their real estate agents. Sometimes this is from earning a percentage of their profit and other times by the fees their agents pay to stay with the company. Either way, the money is earned by the quantity and sometimes quality of real estate agents.
9.1.1.2. Support: Technology Development

This ties into the customer service aspect, particularly for modern real estate firms. As mentioned, it's necessary to provide real estate agents with the best possible services, and a lot of that now comes in the form of providing them with newer available technology. Having available computers, better printing systems, and support to help them use these new technologies (eg. classes to show them how to incorporate newer systems like Google Docs).
10. Group 109
10.1. Vananlyst
10.1.1. Important 2: Technology Development
10.1.2. Most Important: Operation
10.1.2.1. The purpose of our wealth management firm is to maximize the return on investment for our clientele, as well as to maintain our client base through effective wealth management. As there is an enormous amount of data regarding the current economic situation, as well as the portfolios of our clients, it is imperative that we utilize information systems to organize and analyze this data. By doing so, we are able to streamline our operations to meet the needs of individual clients, making it the most important aspect of the Value Chain for our company.
11. Group 108
11.1. City Workforce
11.1.1. Most Important: Marketing and Sales
11.1.1.1. for us to be successful, we need to to attract a large number of companies to use our services. Successful marketing will not only alert companies to our services, but will also convince companies that our service is useful to them.
11.1.2. Important: Outbound Logistics
11.1.2.1. To follow through with marketing and sales, our company needs to differentiate itself from other job-finding services, (such as Workopolis and Monster). We can achieve this by focusing on connecting job-seekers to companies. Outbound logistics is important to this company, our reputation relies on our ability to connect employees efficiently/appropriately to companies.
12. Group 111
12.1. VAnalyst
12.1.1. Primary Activity
12.1.1.1. Most Important: Customer Service --- Because for a business like this, everything including their first response to their clients' inquiry, afterwards research of the project, the quality of their chosen stock, and their afterwards solution to stock market fluction, are all kinds of customer service. Unlike traditional customer service, VAnalyst's only "product" is their service and their analysts' knowledge about stock market, about their clients' company, and their attitude towards their clients.
12.1.1.2. Not As Important: Inbound, Outbound Logistics, Procurement of Resources- Most financial instruments are standardized, liquid, and have negligible transaction costs
12.1.2. Support activity
12.1.2.1. Relatively more important support activity: technology development: because we can use technology to obtain updated information of stock market, company's updated situation and to reach other resource economical and financial professionals and etc. Additionally, to meet VAnalyst's temporary goal, which is increasing their competitive advantage and supporting their goal of providing customer service.
13. Group 107
13.1. MoveIT
13.1.1. Most important Primary
13.1.2. Primary - Operations
13.1.2.1. Because MoveIT is a service company, our value chain model is slightly different. As such, inbound and outbound logistics are not as important to us because we don't need supplies and we don't ship out products.
13.1.2.1.1. Second to operations is customer service. After delivering the goods, we need a customer service system in place to continue our proposition of giving customers great moving service. For instance, MoveIT needs to be accountable if a customer finds an item is misplaced, lost, damaged, etc. after using our service.
13.1.2.1.2. Marketing/sales can also be important in enticing customers to try our service. Once they do, our great operations will hopefully impress them, making us their go-to moving company. This implies that operations plays a larger role in the long run.
13.1.2.2. Operations are vital to MoveIT because it involves the actual process of moving goods from point A to point B. By improving our operations, we can differentiate our company by offering fast and efficient moves (properly maintained delivery vehicles). Improved operations can also limit travel damage (improved packaging) or minimize delivery errors (proper trip planning, GPS systems). We will also have the right equipment to move goods that may be trickier to move like pianos or big screen televisions
13.1.3. Most important support activity: HR Management
13.1.3.1. To deliver superior service MoveIT needs well-managed staff. Procurement and technology are not as important because they are more product based activities (No suppliers, No need for R&D).
13.1.3.1.1. Strong HR works hand in hand with operations. If your movers are nice and considerate, it makes your operations better. By dispatching the right amount of movers for each job, operations will again be improved because we are maximizing the efficiency of the company.
14. Group 117
14.1. City Workforce
15. Group 112
15.1. MoveIT
15.1.1. Agreements with suppliers crucial for pricing and organic food quality
15.1.2. Inbound Logistics; less important activity in the value chain [High importance] - sufficient supply of labour, storage boxes, truck lot, moving trucks and materials are
15.2. New node
16. Group 113
16.1. GoodFoods Canada
16.1.1. Most Important: Technology Development (Supportive)
16.1.1.1. Technology/IT systems will aid GoodFoods gage when supply levels are low, when to order and replenish stock. It also aids with understanding consumer behavior, through our loyalty programs. For example, what the consumer buying trends are, etc.
16.1.2. Most Important: Marketing/Sales (Primary)
16.1.2.1. Point of differentiation to appeal to customers whom can easily substitute organic for conventional products. GoodFoods offers a differentiated service (a community of shoppers), thus marketing serves as an important and vital aspect of operations
17. Group 114
17.1. City Workforce
17.1.1. 1. Most important: inbound logistics. Given the information-oriented element of human resources, it's essential for City Workforce to make sure any applications and job postings are appropriately sorted and nothing goes missing. The company must also make sure there is an appropriate flow of jobs and applications, or else the entire process falls apart. Therefore, City Workforce must closely monitor and analyze this element of things. It is only by appropriately assessing this information that City Workforce can determine its basic effectiveness in what comes down to an issue of getting people jobs. This raw data is needed before any other work can be undertaken, and without it, the company has no ability to offer its users any value.
17.1.2. 2. A close second: operations. It's incredibly important for City Workforce to match people with appropriate jobs and to communicate the appropriate contact and application information to the relevant parties. However, for this to be even remotely possible, the information needs to have originally been taken in and appropriately sorted. As important as it is that people are accurately matched with jobs that make them happy and that their employers are satisfied with the employees provided to them, this comes second to making sure that the opportunity for such exchanges of labour and pay are even possible.
17.1.3. 3. Customer service also matters significantly as the company focuses on temporary workers and thus is likely to have many repeat employee-users as well as employer-users. If they are not satisfied, there is a risk that this will become an entirely short-term venture for the firm.
17.1.4. 4. Marketing and sales is not very very important as job-seekers will look actively for employment opportunities and there are few comparable services (those that specialize in short-term work) in the industry to offer employers (short-term employment is a much less glamorous segment of the HR industry).
17.1.5. 5. Compared with the above activities, outbound logistics is not very important because the product requires only an online website and effective communications with employers and employees to direct them.
18. Group 115
18.1. VanRealty
18.1.1. Most Important Activity
18.1.1.1. First 5 years
18.1.1.1.1. Primary: CONSIDERATION OF WHERE WE ARE IN OUR COMPANY LIFE CYCLE: first 5 years: 1) As a start-up real estate firm, what is most important is: Marketing and Sales
18.1.1.2. Next 5 year plan
18.1.2. Supporting Activities
19. Group 120
19.1. DataMed
20. Group 101
20.1. MoveIT
20.1.1. Most Important: Operations and Outbound Logistics
20.1.1.1. MoveIT is primarily a service company, so the most important asset to the success of the business would have to be its operations.
20.1.1.1.1. We have included them together in our assessment of the company since one cannot function without the other. Operations ensures that the business is ready to serve customers and efficient. Outbound Logistics, we have defined as actually attending to customer and helping them move, which is the basic essence of the company, and we have combined both to be the most important because one cannot exist without the other and the deliver is the most important
20.1.2. Not as important: In-bound Logistics (Primary), Procurement of Resources (Support)
20.1.2.1. MoveIT is a service company and does not provide final-end products, meaning that the only logistical planning needed is the refueling of the trucks.
20.1.3. Can be more important: Customer Service, Marketing
20.1.3.1. Improving in these activities would differentiate the company from its competitors, which could be its winning point because all firms in the moving industry are providing almost identical services.
20.1.3.1.1. An information system that can be used by MoveIT to improve their customer service would be a form of database that would record the names and addresses of people who have moved with them and this data would be referenced with housing listings for properties on sale. When a match would occur the company could send them a more personalized letter than other moving companies, with their names and well wishes for the move, and ask if they would require their services moving wince they have helped them before.
21. Group 105
21.1. VanRealty
21.1.1. Most Important Primary Activity: Operations Operations is the most important part of the Value Chain Model for VanRealty as it is where our culture is fostered towards our value proposition. Because VanRealty strives for close relationships in every sell, the acts of communication and assistance between the client and agent are key. Through the welcoming sessions, the concoction of the contract, and appropriate information sessions, as well as assistance in finding a loan for buyers, VanRealty's agents form a connection with each client.
21.1.2. Next most Important: Inbound logistics
21.1.2.1. This is important to the industry, as finding buyers is both competitive and dependent on the market. Given the current fluctuating conditions, people are hesitant to buy homes because prices have been dramatically changing. However, finding buyers is vital to VanRealty's business as without potential buyers, the clients will not be satisfied with the service and VanRealty will lose customers.
21.1.3. Third Importance: Marketing
21.1.3.1. Marketing is still important for VanRealty as targeted selling of its value proposition will increase its client base. Review based/Referral marketing will be vital to promote both its agents and company and in turn, people will want to use their service"
22. Group 106
22.1. Marketing and Sales
22.1.1. pricing - determine appropriate deals and coupons to lure in customers to buy from our store as opposed to competitors
22.1.1.1. to justify lower prices we can incorporate good relations with our suppliers in order to achieve competitive pricing
22.1.2. advertising - flyers, online website, newspapers, mobile apps
22.1.2.1. think about who is buying from us - older generation for flyers and for the younger people - mobile apps and websites for convenience, use medical and scientific data to back up claims of healthiness as well as to justify buying at our store with higher prices
22.1.3. this is the most important part of the value chain because it incorporates other parts of the chai, without sales and marketing we are unable to differentiate ourselves from other supermarkets that also specialize in organics
22.1.3.1. we have to lower our costs or increase the quantity of our sales, thus increasing our profit margins
23. Group 119
23.1. GOOD FOODS
23.1.1. Most important: Marketing and Sales
23.1.1.1. As an organic chain, marketing and sales are critical to the value chain of the business as this will set us apart from our competitors. Since we don't have anything proprietary and prices are very competitive throughout the entire industry, marketing and sales are our main focus to ensure that our customers enjoy the shopping experience and service.
23.1.1.1.1. In terms of marketing and sales we can focus on creating a conducive environment for our customers. We can provide cooking lessons on organic foods, recipes, educational classes free of charge to our customers
23.1.1.1.2. We can focus on social media to acquire more customers, increase brand name and reputation. Organic foods are targeted at the younger population and most of them very active in the online community. We can conduct online promotions to attract customer
23.1.1.1.3. Loyalty programs can be implemented for customers to gain exclusive discounts or a point accumulation system for members to redeem free products after a certain amount is spent
23.1.1.1.4. By focusing on marketing and sales, we hope to expand our customer base beyond the regular organic food shoppers.The current market for organic foods consists of mainly people in the age range of 18-37. Marketing may include spreading knowledge regarding benefits of health foods to attract people outside the age range (especially children who if they start young will lead to continued business with us) who were not previously familiar with our products to come try.
24. Group 118
24.1. Most important activity
24.1.1. Primary Activity: Marketing and Sales
24.1.1.1. Product Differentiation: Saturated market makes it difficult to attract business, it is vital for firms to differentiate their products. Eg; Residential housing - Apt. , Condo, Townhouse, Houses.
24.1.1.2. VanRealty needs to compete with numerous real estate firms. Excellent/unique marketing strategies are really important to attract new clients. Marketing involves strategies like developing the products or services customer wants, pricing the products/services correctly.
24.1.1.3. Property & type of development is tailored to a target audience. These consumer profiles reflect key features/amenities/details. Eg; Near schools, transit, safe, distance to entertainment, ect..
24.1.1.4. New node
24.1.1.5. New node
24.1.1.6. New node
24.1.1.7. Marketing and sales is the most important activity, because: it is the most competitive part in the value chain. It directly impacts the revenue of the projects the most; matters how is the products represented to the customers.
24.1.2. Support Activity: Procurement of Resources
24.1.2.1. New node
24.2. VanRealty
24.2.1. Activities that are not as important, but are also helpful.
24.2.1.1. Primary: Procurement of Resources
24.2.1.1.1. Maintain a stable flow of supplies: new homes that are built and securing contracts to our firm for special viewings and pricing,
24.2.1.2. Support Activity: Firm Infrastructure
24.2.1.2.1. Sharing information among all levels of firms must be swift and efficient. Design and construction teams must work in sync.
24.2.1.2.2. Administrative and Management Operations impact all areas of construction as well as client care. Strong organization and communication is needed to coordinate developments. Communication between the firm and gov't/clients/stakeholders
24.2.2. Activity of least concern at the moment
24.2.2.1. Primary: Operations
24.2.2.1.1. It is a routine management and organization once client is found to make sales, the office building is fixed asset with some mobile outreach for open houses
24.2.2.2. Support: Human Resource Management
24.2.2.2.1. focus on initial training that is long lasting, do not need as many realtors once procedure is standardised and efficient, mainly independent employees that seek business and conduct communication and sales
25. Group 121
25.1. MoveIT
25.1.1. Most Important: Outbound and Logisticcs
25.1.1.1. Because of the nature of the business, the product is a service and so outbound and logistics includes performing the deliveries on time and not damaging belongings.
25.1.1.1.1. This is crucial to the value proposition of the business.
25.1.2. Less Important: