Occupational Safety and Health Administration (OSHA) BY ; LUZ DAYRIS PEREZ, ENGLISH MODULE, OCTOBER 20TH 2020
by Luz Dayris Perez Cavadia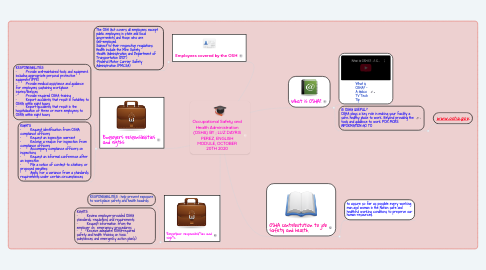 1. What is OSHA?
1.1. What is OSHA? - A Galco TV Tech Tip
1.2. IS OSHA USEFUL? OSHA plays a key role in making your facility a safe, healthy place to work. Beyond providing the tools and guidance to work FOR MORE INFORMATION GO TO
1.2.1. www.osha.gov.
2. OSHA contributution to job safety and health.
2.1. to assure so far as possible every working man and woman in the Nation safe and healthful working conditions to preserve our human resources.
3. Employees covered by the OSH
3.1. The OSH Act covers all employees except public employees in state and local governments and those who are self-employed. Subject to their respective regulations: Health include the Mine Safety -Health Administration and Department of Transportation (DOT) -Federal Motor Carrier Safety Administration (FMCSA)
4. Employer's responsibilities and rigths
4.1. RESPONSABILITIES • Provide well-maintained tools and equipment, including appropriate personal protective equipment (PPE) • Provide medical assistance and guidance for employees sustaining workplace injuries/illnesses • Provide required OSHA training • Report accidents that result in fatalities to OSHA within eight hours • Report accidents that result in the hospitalization of three or more employees to OSHA within eight hours
4.2. RIGHTS • Request identification from OSHA compliance officers • Request an inspection warrant • Receive a reason for inspection from compliance officers • Accompany compliance officers on inspections • Request an informal conference after an inspection • File a notice of contest to citations or proposed penalties • Apply for a variance from a standard's requirements under certain circumstances
5. Employees' responsibilities and rights
5.1. RESPONSABILITIES : help prevent exposure to workplace safety and health hazards
5.2. RIGHTS: • Review employer-provided OSHA standards, regulations and requirements • Request information from the employer on emergency procedures • Receive adequate, OSHA-required safety and health training on toxic substances and emergency action plan(s)