Tech Turn-Off 2012
by
The Media Spot, LLC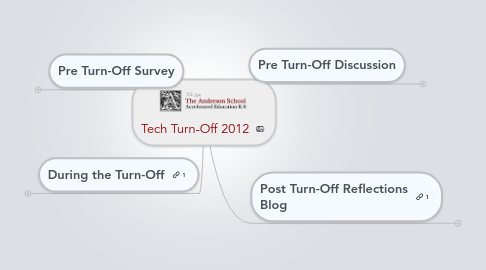 0.0
stars - reviews range from
0
to
5
Tech Turn-Off 2012
Pre Turn-Off Survey
Media & Tech Use for Logging Purposes
How many hours did you spend INTERACTING through media THE WEEK BEFORE THE TURN-OFF?, Class 1, Smart Phone: Internet, email, text/messaging, games, Computers/Laptops, School Work using technology (writing, research, checking grades), Social Media, Facebook, Twitter, MySpace, Gmail/Email, Google +, Skype, AOL, Reddit, Instagram, Electronic Entertainment, TV, Video Game Consoles, Playstation 3, Wii, Hand Held Video Games, Cell Phone: texting, pics, calling? recording (audio/video), Class 2, Cell Phones, text, calling is OK, Smart Phones/iPods/iPads, Apps, Music, Gaming Consoles, wordbowl - interactive game, words with friends, temple run, etc., Photos/Videos Recording, Web Conferencing/Chatting, Facetime, Chatting, Skype, Oovoo, Email
How many hours did you spend CREATING media THE WEEK BEFORE THE TURN-OFF?, Class 1, Garageband, Word, Sketchup, Pages, Scratch, Text Edit, Flash, Python, AfterEffects, Video Editing, Photo & Video Capturing/shooting, Blogging, iMovie, Photobooth, iPhoto, C++, Photoshop, XCode (objective C), Google Docs, Class 2, making puzzles or online activities, Videos, Graphic Design, Word Processing
How many hours did you spend CONSUMING media THE WEEK BEFORE THE TURN-OFF?, Music, iPod, iPad, Computer, CD, iPod, Walkman, Computer, Pandora, Radio, Record Player, CD, Stereo, All forms of Internet or Satellite Radio, TV & Movies, iTunes, Blockbuster, Hulu/Youtube, Apple TV, Theatre, DVDs, Netflix, Xtranormal, Red Box, Movie Theater, News, Online Newpapers, Ereaders, TV
Technology & Digital Media, We're turning off things we zone out during..., Plugging in an instrument doesn't count b/c you're actively "playing" something real..., Anything with a Screen is OUT, Anything that is superflous -- not necessary for education purposes., Electronic media... however books were PRODUCED with modern tech., In School Use, Anything that's electric that's used for "recreational" reasons rather than "necessary" reasons., Computer, Tech, Screen, (NOT instrument, typewriter), Reading books isn't using tech, but it's promoting technology., Not getting rid of electricity, but trying to do things "PRODUCTIVE"., Devices, Computers/Laptops, eReaders, TVs, iPods/Pads, Cell Phones, Smart Phones
EXTRA NOTES: Non-Tech Use
How many hours did you spend INTERACTING with unmediated people THE WEEK BEFORE THE TURN-OFF? *
How many hours did you spend with analog media THE WEEK BEFORE THE TURN-OFF?
What are you doing when you're not using technology?
Pre Turn-Off Discussion
Predictions
Record your thoughts on video or write it down...
What will you learn?, about self?, Class 1, How long you can go without using? How long you can stand to be without it., Class 2, cannot live without it, find out how creative you are, it's habit/part of the routine: we are used to instant gratification, might find new things, gain more knowledge of other things, how dependent we are for personal entertainment..., gain more knowledge of other things, You don't miss it when you have something else going on., Hard time resisting when it's right in front of you. You will feel like you want to force yourself to use it., "Harder to talk to boys (or people you don't talk to face to face much.", about world?, Class 1, It's really convenient and enticing (all of what we're talking about)., If you look around you will see a lot of people using it and that will probably make you feel: annoyed, insecure,, there are other ways of communicating: calling or meeting in person. it won't be that hard to stay in touch., "We live in a digital world, if you stop and look and close all distractions, the world looks quite different." "Everything seems to blossom.", Class 2
What will you lose? Or miss most?, Class 1, Facebook, Not texting will be hardest? Losing communication -- different from calling..., Class 2, music, gaming, TV, email, social networking, texting
On what media will you spend the MOST time?
Why/why not do this?
Class 1, Visual people will lose a lot (more than text lovers), Peer pressure: others will be doing it., Sports or other Real Time Events (you will feel left out), Safety: losing connection to fire dept, police, parents.
Class 2
Previous experiences Turned-off
Class 1, Natural Disasters, Family vacations, Low/No Wifi or Phone Service, Blackouts, Camp with no electricity
Class 2
Draft in Google Docs
Post video reflections to Vimeo Account
Ms. F & Mr. R will approve videos & posts for the website
In one sentence, describe the role of media & technology in your life.
Fahrenheit 451 tie-ins
Optional: Every kid take their one most interesting reflective point, and add it to a group video production. You only have 5 seconds to summarize your point.
Think about unintentional media exposure
How many advertisements do you encounter a day? Even when NOT using technology.
How often are you in front of a screen that you do not choose to turn on?
Think about connections between our world and that of Fahrenheit 451
Strategies
Hide media - Prep your environment
unplug Wifi if you HAVE to use it.