What is the prevalence of Metabolic Syndrome in University students that identify as disabled compared to other students at the same University
by izzy judware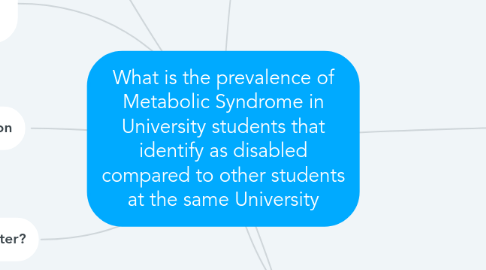 1. Definition of disability: "Are you limited in any activities because of physical, mental, or emotional problems?"
1.1. Data form CHANAS; 15y data set
1.2. Answers: Y/N or Choose not to answer
1.3. Data taken on disability from 08'
2. Big Picture: Disability
2.1. Disability represents the largest minority group (~19%)
2.2. <1/3 are employed; productivity in market/economic
2.3. 40% report poor health status
2.4. More likely to engage in sedentary behavior, smoking and at risk for obesity, CVD, and DM
2.5. 51% report inadequate services in transitioning youth (18-24y)
2.6. Transitioning youth also are more likely to engage in smoking and less exercise and are more likely to be obese
2.7. Chronic disease costs more to treat then preventative health care
3. Need
3.1. Research showing that transitioning youth are at risk for MetS
3.2. Lack of research on MetS in disability population
3.3. Transitioning youth w/ disability often encounter road blocks in medical coverage making this an increasingly sensitive period
4. Barriers
4.1. Inadequate research
4.2. Misconception that disability caused secondary chronic illness
4.3. no standard definition of disability to prove health disparities
5. What may contribute to health disparities in disabled population?
5.1. Health insurance coverage
5.2. Accessibility to buildings and equipment
5.3. Stigma
5.4. Lack of professional training
5.5. Available resources
6. What is my background?
6.1. B.S. Nutrition & Dietetics
6.2. Pursuing M.S. Nutritional Sciences
6.3. LEND Program
7. Null Hypothesis Justification
7.1. Contributes to knowledge in an underrepresented population
8. Why does this matter?
8.1. Underrepresented population
8.2. Education / Intervention potential on campus
8.3. Potential to inform policy
8.4. Draw attention