Facebook-app brainstorm
by
Pieter Van Geel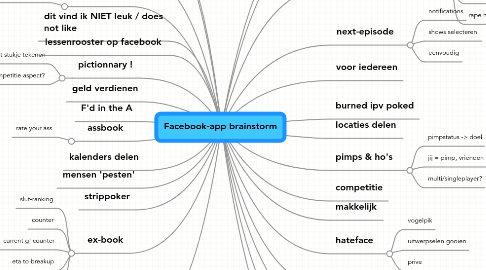 0.0
stars -
0
reviews range from
0
to
5
Facebook-app brainstorm
geld verdienen
competitie
mensen 'pesten'
burned ipv poked
F'd in the A
pimps & ho's
pimpstatus -> doel
jij = pimp, vrienden = ho's
multi/singleplayer?
kalenders delen
locaties delen
assbook
rate your ass
makkelijk
strippoker
voor iedereen
pictionnary !
om de beurt stukje tekenen
competitie aspect?
hateface
vogelpik
uitwerpselen gooien
prive
ex-book
slut-ranking
counter
current gf counter
eta to breakup
eventueel fictief
lessenrooster op facebook
next-episode
notifications
shows selecteren
eenvoudig
dit vind ik NIET leuk / does not like
hello kitty wonderland
slagen geven
aaien
in brand steken
op stap met hello kitty
rape hello kitty
has raped
indiana jones directors
quake live
be my bitch
aanvaarden?
ipv in a relationship
bitchslap
ranking?
kadootjes
send farts
Locaties
status updates voor bepaalde personen
gebruikersinterfaces brossen maar niet aan iedereen tonen
terroristische organisatie
steven blew up your profile
landed a plane in your profile
simpele versie counter strike
publish pc specificatie
nerd ranking
geluidjes doorsturen
my dream car
tweets van vrienden zien op fb