GA Magento Tracking Requirements
by
Tim Leighton-Boyce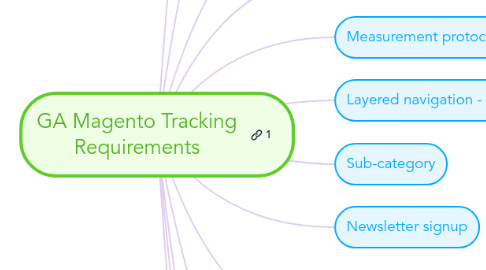 0.0
stars - reviews range from
0
to
5
Sub-category
Measurement protocol?
Newsletter signup
Checkout error messages
Customer (anonymous)
See suggestions for visitor custom variables below
Total orders made
Lifetime spend
Cohort YQM
Newsletter preferences
Orders/Product Views
Category
Product
Layered navigation - selected values
Transaction
Checkout method
See suggestions for session custom variables
Payment method
Latency
Shipping method
Conversions
Micro conversion
Macro conversion
Look to Book (see GA Enhanced Ecommerce)
Hi Tim, Hope you don;t mind I added a look to book requirement. One of my favourites for e-commerce. Cheers, Al Wightman Totally fine, Al. The whole point of this thing is to share and brainstorm.
Consider tracking of 'off site' conversions. See Github extension:
Big potential for improving user experience
Login failed
Offercode rejected
Error pages 40x 50x etc
Session
Visitor
Page / Content Grouping
2014 Magento Wish List
Big Moves
Additions