Religion can affect the lives of followers by
by Anne Froberg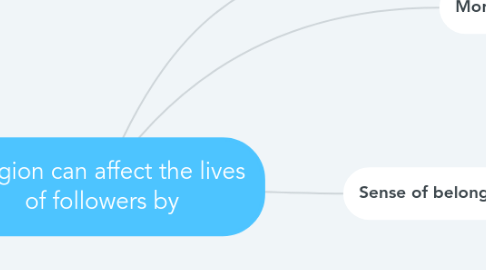 1. Understanding of life
1.1. The cause of suffering according to the 4 Noble Truths is greedy people, death, and other human bad habits. In order to stop suffering, you have to get past being greedy and be calm. This shows understanding of life because you have to get past things and move on.
2. Sense of belonging
2.1. A sense of belonging can impact people's lives in many different ways. For example, in the Hindu Caste system, you might want to be separated based on what you do for a living. Someone who is a Brahmin might want to feel more special than a Sudra because a Brahmin is a priest.
3. Moral code
3.1. Moral code can affect the lives of followers in many different ways. According to the New Testament "Blessed are the pure-hearted for they shall be called the children of God". If someone believed this then they might want to be a Christian because of this belif.